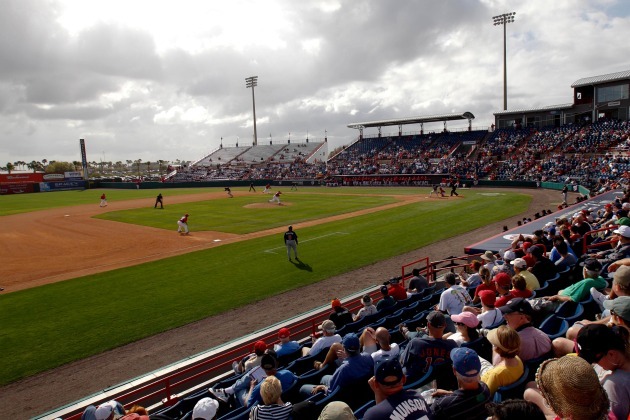 By Evan Brunell
LONELY ROAD: The complexion of spring training has changed drastically over the last couple decades. There has been a seismic shift with central- and west-based clubs flocking to Arizona where the weather is friendlier and the commute between spring training homes shorter.
Meanwhile, in Florida, the eastern coast is struggling to keep its business with only the Mets, Cardinals, Marlins and Nationals its occupants. The other clubs are based in west Florida and the Nationals are one team weighing its options on relocation. Although Washington's lease on its spring training complex in Viera, Fla., runs through 2017, that is not expected to be a major hurdle should the club deem its time in Florida untenable.
The major issue at hand is transportation, as Washington routinely requires over 1 1/2 hours of travel time to get to other spring complexes for exhibition games. Those missed hours all add up significantly in expenses as well as lost time. (FloridaToday.com)
Meanwhile, the Wall Street Journal steps into the time machine and revisits the Yankees' occupation of Fort Lauderdale as spring training home from 1962-95. The one unfortunate byproduct of time marching on is sometimes it forces us to abandon places with great historical weight, such as Fort Lauderdale or the Dodgers' famed -- and now abandoned -- spring training home of Vero Beach, Fla.
I AM NO. 5: With the news that Aaron Cook will miss extended time due to injury, there is a battle for the No. 5 spot in Colorado. Felipe Paulino is out of the race, as he is now being converted to a reliever. That leaves two favorites for the spot in Esmil Rogers and Greg Reynolds. Despite Reynolds' strong season, it may be prudent to keep him in Triple-A for now. (Denver Post)
HEY, WHAT ABOUT ME? Yesterday, all attention was on Nationals center fielder Nyjer Morgan for alleging his hit-by-pitch in Sunday's game was on purpose for a dustup last season. But lost in all this was Danny Espinosa also being plunked, this one in the head. Espinosa turned out fine, but admitted to being surprised. (Washington Times)
PRETTY BOY: You won't find Eric Hosmer in Hollywood any time soon. The first baseman is jockeying with fellow teammate Mike Moustakas for title of best hitting prospect in the Royals system and is already on manager Ned Yost's good side. "The thing that I like about [Hosmer] is that being pretty is not high on his list of priorities," Yost said. (MLB.com)
FLOWERS BLOOMING: Count White Sox skipper Ozzie Guillen among Tyler Flowers' fans. Flowers was once a top catching prospect whose luster wore off in recent years, but a strong spring training has Guillen excited about the future. (ChicagoBreakingSports.com)
RUN GRADY, RUN: Grady Sizemore ran the bases successfully Sunday and is on track to play in a spring-training game in several days. It will mark his first game since May 16, so will need some time to get acclimated. He is not expected to be ready for Opening Day but could be ready to go shortly thereafter. (Cleveland Plain Dealer)
PLAY OR GO HOME: Braden Looper hopes to make the Cubs after taking a year off. The former closer and starter appears to have a good shot of making the club and is drawing interest from other teams. One issue: Looper isn't interested in playing anywhere but Chicago and will go home to his family if he doesn't make the Cubs. (Chicago Sun-Times)
ONE IN, TWO OUT: Reds manager Dusty Baker appears settled on Chris Heisey making the team as a backup outfielder. That would leave Fred Lewis and Jeremy Hermida on the outside looking in. (Cincinnati Enquirer)
SURGERY DEFERRED: Braves minor-league manager Luis Salazar will undergo eye surgery (again) Tuesday. This is a delaying of surgery originally scheduled for Sunday as doctors wanted to wait for swelling to go down. He is expected to make a full recovery after taking a line drive off the face last Wednesday. (Atlanta Journal-Constitution)
NOT DONE: So, has the 48-year-old Jamie Moyer changed his mind about coming back to baseball after undergoing Tommy John surgery? Nope. (Philadelphia Inquirer)
For more baseball news, rumors and analysis, follow @cbssportsmlb on Twitter or subscribe to the RSS feed.