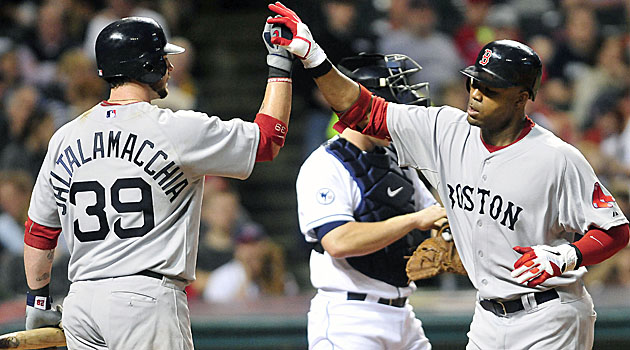 By Matt Snyder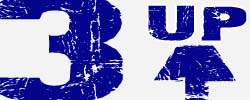 Carl Crawford, Jarrod Saltalamacchia, Red Sox.
In a game where the Red Sox pounded the MLB-best
Indians
for 14 runs on 20 hits, two players stood out. They stood out because they had drastically fallen short of expectations offensively in the early going for their slow-starting team. Wednesday, though, may be a sign the worm is finally starting to turn for Crawford and Saltalamacchia. Crawford went 4-4 with two doubles, a home run, three runs and two RBI. Saltalamacchia went 2-4 with a homer, three RBI, two runs and a walk. Crawford's average is now a season-high .229 (and he's hitting .309 in May). He closes the three-game series in Cleveland 6-11 with two doubles and two home runs. Saltalamacchia, meanwhile, is eight for his last 21 with four home runs and seven RBI. He's even walked more times than he's struck out in that span, which is a great sign considering he had 24 strikeouts and four walks prior.
Brooks Conrad, Braves.
The pinch hitter entered Wednesday with 31 plate appearances in 27 games. He was hitting just .130 with zero home runs and a .474 OPS. Yet in the top of the 11th against the
Pirates
, Conrad took
Jeff Karstens
deep for what proved to be the game-winning home run.
Erik Bedard, Mariners.
The former ace is trying to prove that he's healthy and back on track. He's doing pretty much all you could ask after everything he's been through. Bedard worked six scoreless innings Wednesday night and picked up his third straight winning decision. Here's his line in his last five starts, which includes a 3-0 record: 33 IP, 28 K, 7 BB, 1.09 ERA, 0.85 WHIP. He's got a lot of season left, but this is why they invented an award called the Comeback Player of the Year.
---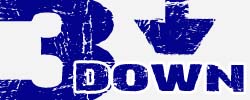 Brandon Phillips, Reds.
You know that 19-inning loss the Reds just suffered? The one where they emptied out their entire bullpen and completely abused
Carlos Fisher
's poor right arm? Yeah, the Reds shouldn't have had to do that. There were myriad reasons for this, but the most glaring was Phillips being picked off second base in the 11th. It was bad because he was picked off as the go-ahead run in a tie game. It was bad because white-hot
Jay Bruce
was on deck. It was bad because it happened in a stretch where the Reds drew three consecutive walks after Phillips was hit with a pitch. But it was completely unforgivable because Phillips was socializing with
Phillies
shortstop
Jimmy Rollins
when he was nabbed. Phillips wasn't even remotely paying attention when the throw got him by several feet. He's well-chronicled for having a lovable personality, but you can't have that in a professional. His job is to play baseball. To his credit, he knows it. He told reporters after the game he takes all the blame for the loss.
Justin Berg, Cubs.
If you ever want a reason to pay more attention to stats other than ERA for relievers, check out this debacle. Berg relieved
Casey Coleman
with one out in the second inning and the bases loaded. Berg threw 12 pitches. Every single one of them was a ball. That means he walked the only three batters he faced, forcing in three runs. They were all charged to Coleman. Since
James Russell
came in and got out of the jam, none of Berg's baserunners scored. He was left with a line of zero innings, three walks and zero earned runs. And the Cubs lost by three.
Luke Hochevar, Royals.
Obviously some credit has to be given to the
Orioles
for the eight run fourth inning -- and some blame has to be passed along to
Alcides Escobar
for an error that allowed the eighth run -- but Hochevar simply has to be better than this. After three scoreless innings, he let this happen in the fourth: Double, single, ground out, walk, double, walk (with a wild pitch), single, walk, single, single, pop out, throwing error, ground out. There wasn't even really a big blow.
For more baseball news, rumors and analysis, follow @cbssportsmlb on Twitter or subscribe to the RSS feed.