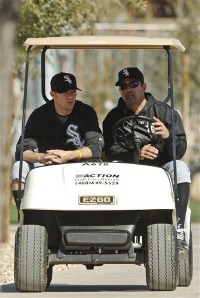 The first day of live batting practice is usually a big day for pitchers and batters, being the first step back actual baseball activities -- but Monday's session was even more important for White Sox starter Jake Peavy.
"A day like today is a fun day and a big day for you because there are times you think you'll never do what I did today again," Peavy told Mark Gonzales of the Chicago Tribune. "I certainly think about it when you're sitting down with surgeons and they're trying to figure out how they're going to do surgery and try to figure out a rehab program. It's something that does cross your mind. What if I come back, and I'm never close to the same? Certainly, those are things you think about when you have alone time, but I think we're all past that and moving forward to being who I know I can be."
Peavy threw about 40 pitches to Jordan Danks, Stefan Gartrell and Brandon Short. Peavy said he threw at about 75 percent intensity and also threw some breaking pitches. The next test is how he reacts Tuesday, the day after throwing.
Peavy is expected to pitch March 4 against the Angels in another big test. Peavy has said that he hopes to be ready for opening day, but the White Sox won't need a fifth starter until a little while after that. Chris Sale will not be an option to replace Peavy in the rotation -- Phil Humber, Lucas Harrell, Jeff Gray and Charlie Leesman have been noted as options to pitch in the fifth spot instead of Peavy.
-- C. Trent Rosecrans
For more baseball news, rumors and analysis, follow @cbssportsmlb on Twitter or subscribe to the RSS feed.