By C. Trent Rosecrans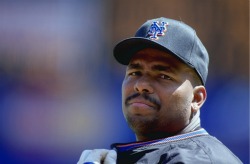 One of the many reasons I do what I do now is that I have very little interest or understanding of the financial world -- but I do know enough to know the Mets are in a bad, bad spot.
Fortune magazine reports the Mets financial mess is worse than just the $430 million in bank debt the ownership group faces. According to the magazine, the team's liabilities are closer to $625 million.
According to the magazine's source, the team has $100 million of what it calls "contingent liabilities" -- including deferred payments to players long gone from not just the Mets, but also baseball. Bobby Bonilla, right, is owed $1.2 million annually for the next 25 years and Bret Saberhagen will get $250,000 every year until 2029.
The potential buyer believes the team could lose as much as $70 million this season due in part to the team's dismal showing at the turnstiles so far this year.
For more baseball news, rumors and analysis, follow @cbssportsmlb on Twitter or subscribe to the RSS feed.