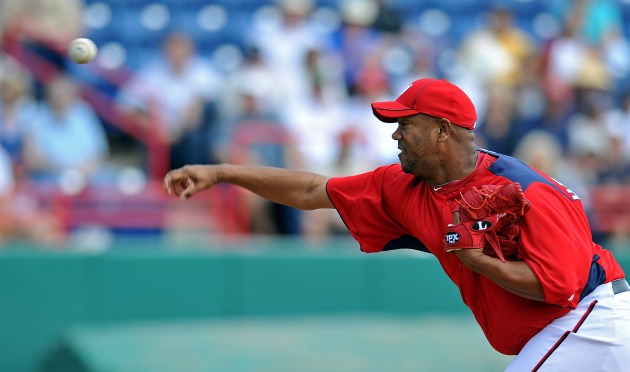 UPDATED 6:58 p.m.
By C. Trent Rosecrans
Benches cleared Monday in the Cardinals-Nationals game, but they may have emptied at the wrong time.
The two teams met on the field -- with the managers, Jim Riggleman and Tony La Russa yelling each other -- in the seventh inning after Cardinals reliever, and former National, Miguel Batista hit Ian Desmond.
That got the Nationals' Nyjer Morgan's ire, and the two teams met in the middle of the field for a typical baseball millabout.
However, it was the third time a player had been hit in the game.
Chris Carpenter hit Laynce Nix with a fastball in the fifth inning and then the Nationals' Livan Hernandez hit Colby Rasmus.
While Carpenter denied hitting Nix on purpose -- "Not at all," Nix told the St. Louis Post-Dispatch. "It was either cutting or moving back over the plate."
Of course, it may be noted that Carpenter only had trouble locating after Morgan bumped into Albert Pujols when running into first base that inning and a trainer had to be called onto the field.
Nix felt like he was hit on purpose.
"There's no question about that," Nix told reporters, including the Washington Post. "As for why, I think you have to ask them."
Although it's unlikely Bud Selig and Joe Torre will agree with me, I find it refreshing that Hernandez went ahead and said he hit Rasmus on purpose. He told MLB.com's Bill Ladson he hit meant to hit Rasmus. We all know it's part of the game and it happens, it's actually nice when someone's honest about it, so kudos to Hernandez there. Here's the entire quote, thanks to MASNSports.com:
"You hit somebody on purpose and you know I'm going to hit somebody because I'm old school. I hit somebody and it's over right there. ...You got to take care of your teammates," Hernandez said. "If something happen to your teammates, you got to go and step up and do something. This is what I do. Take care of my teammates. Always."
Any admission is good for a fine and/or suspension, which is why most pitchers will just wink and smile before their denial.
As for the hit batter who actually got people off the bench, Desmond said he didn't mind getting hit by Batista, because "Miggy throws like Miss Iowa, anyway," he told the Washington Post's Adam Kilgore (via Twitter). That, of course, is an allusion to last year when he famously said about fans booing him while starting instead of Stephen Strasburg, "Imagine, if you go there to see Miss Universe -- and you end up having Miss Iowa."
However, Hernandez wasn't happy another guy got hit.
"I hit [Rasmus] because [Carpenter] hit somebody. ... I was surprised [Desmond got hit] because you're not supposed to hit [a third] guy," Hernandez said. "That one's a problem. In the old-school baseball, and La Russa knows, if you hit somebody first, you're supposed to take the next one. That's it, it's over. Then you hit another guy again. It's not fair. That one's not real baseball."
There was bad blood between the two teams last year after Morgan ran into Cardinals catcher Bryan Anderson in August. Riggleman apologized after that game and kept Morgan out of the lineup the next day for fear of retaliation.
For more baseball news, rumors and analysis, follow @cbssportsmlb on Twitter or subscribe to the RSS feed.