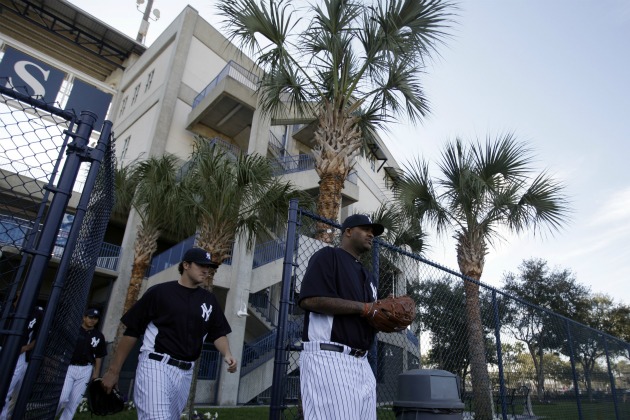 By C. Trent Rosecrans
After a one-year stint as an underdog, the
Yankees
are back to being the clear favorite in the American League East. New York fortified its rotation with
Michael Pineda
and
Hiroki Kuroda
, upgrading what appeared to be its one weak link.
Major additions:
RHP Michael Pineda, RHP Hiroki Kuroda, DH
Raul Ibanez
Major departures:
RHP
A.J. Burnett
, DH
Jesus Montero
, RHP
Bartolo Colon
, DH
Jorge Posada
Probable lineup:
1.
Derek Jeter
SS
2.
Curtis Granderson
CF
3.
Robinson Cano
2B
4.
Alex Rodriguez
3B
5.
Mark Teixeira
1B
6.
Nick Swisher
RF
7.
Russell Martin
C
8. Raul Ibanez DH
9.
Brett Gardner
LF
Probable rotation:
1.
CC Sabathia
2. Hiroki Kuroda
3. Michael Pineda
4.
Ivan Nova
5.
Phil Hughes
Back-end bullpen
Closer:
Mariano Rivera
Set-up: RHP
David Robertson
, RHP
Rafael Soriano
Important bench players
C
Francisco Cervelli
, IF
Eduardo Nunez
, OF
Andruw Jones
, IF
Eric Chavez
Prospect to watch:
With the additions of Kuroda and Pineda, there's not quite the pressure on left-hander Manny Banuelos that there was last spring. Banuelos doesn't turn 21 until March 13, so he can develop without the pressure of being the savior of the Yankees. His results last season at Double-A and Triple-A didn't live up to the hype, but he's still a quality young pitcher than can contribute to the rotation in the future.
Fantasy breakout:
Michael Pineda
"With a year of experience, he'll be better equipped to handle a full workload, which could lead to 15-plus victories with the Yankees' stellar lineup backing him. And most likely, any rise in ERA will be in relation to the early 2.58 mark, not the final 3.74 mark." - Scott White
Fantasy sleeper:
Phil Hughes
"With an improved workout program this offseason, he should be able to pick up where he left off late last year, when he was throwing in the low-to-mid 90s. True, Hughes wasn't exactly an ace then, but just by holding a regular rotation spot for the high-scoring Yankees, he's a sleeper in Fantasy. And if he can recapture the form he showed in the first half of 2010, when he was an All-Star, he's a late-round steal." - Scott White
Optimistic outlook:
Pineda lives up to expectations, Kuroda is solid, Nova takes a step forward, Hughes makes 30 starts and Sabathia wins the Cy Young. That pitching, with a healthy A-Rod, Granderson repeating his 2011 output and Teixeira lives up to his contract and the Yankees win the AL East easily and go on to win the World Series.
Pessimistic outlook:
Anything less than a World Series title is the end of the world in New York, so it doesn't have to be too bad for Yankees fans to overreact. But the worst-case scenario is the team's older stars continue to age, with injuries taking away A-Rod, Jeter, Teixeira and Martin for long periods of times. Pineda struggles in New York and his lack of a third pitch comes back to bite him, Kuroda is mediocre and Nova takes a step back. Meanwhile, the
Blue Jays
take a step forward and New York finishes behind Tampa Bay, Boston and Toronto.
For more baseball news, rumors and analysis, follow @EyeOnBaseball on Twitter, subscribe to the RSS feed and "like" us on Facebook.