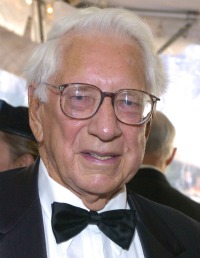 By C. Trent Rosecrans
Former Reds owner Carl Lindner passed away Monday night at the age of 92.
Lindner owned the Reds from 1999-2005, selling the team to current a group led by Bob Castellini. He had been minority owner before and after his term as CEO in those six seasons. Lindner's biggest moment as owner was approving the trade to bring Ken Griffey Jr. from Seattle to his hometown of Cincinnati. He was also the owner when Great American Ball Park opened.
Lindner took over the Reds from Marge Schott. As owner of the Reds -- and perhaps as a reaction to the style of Schott -- Lindner shied away from the public and was seen as the scapegoat for the Reds' struggles. The new owner, Castellini, has been much more visible as the team's owner, in part learning from the reaction to Lindner's silence.
The high-school dropout started his fortune with a dairy and convenience store chain, before founding American Financial Corp., which later acquired Chiquita Brands International and Great American Insurance. That company's name is used on the Reds' stadium.

"Carl was a great entrepreneur, family man and friend of the Greater Cincinnati region," Castellini said in a statement released by the team. "His humble beginnings gave him a great sense of how to create value and the importance of giving back to your community. He is perhaps the greatest Horatio Alger, rags to riches, story in Cincinnati's corporate history. He understood the importance of a healthy and vibrant city core and for years helped to create such a city – quietly, constructively and often anonymously. He made many great contributions to the city – not the least of which was being tied to the Reds ownership since 1981, including having purchased controlling ownership in 1999. Our thoughts and prayers are with his family during this difficult time."
Here's his obituary from the Cincinnati Enquirer.
For more baseball news, rumors and analysis, follow @eyeonbaseball on Twitter or subscribe to the RSS feed.