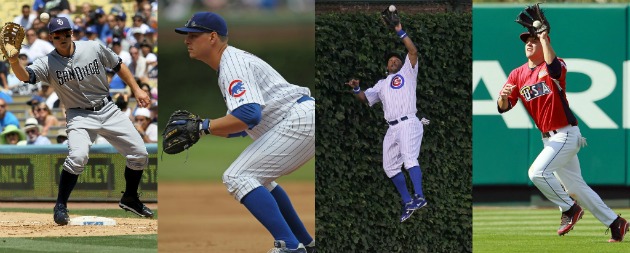 By C. Trent Rosecrans
The National League Central is often looked down upon, but it produced both teams in the National League Championship Series last year, as well as the World Series. Both the
Cardinals
and
Brewers
have large voids in their lineup due to free agency, but all the teams have some questions when pitchers and catchers report to camp. Here's the NL Central
spring position battles
:

Chicago Cubs
Old vs. Young:
Bryan LaHair
and
Marlon Byrd
vs.
Anthony Rizzo
and
Brett Jackson
For so long the Cubs' motto has been "wait 'til next year" -- that may have been changed to "wait 'til a couple of years" as Theo Epstein has fully embraced the rebuilding effort. The question is whether the braintrust thinks it's better for some of their younger players to learn at the big-league level or continue in the minors. The two biggest choices will be Rizzo and Jackson. Rizzo, 22, struggled in his call-up last season, hitting .141/.281/.242 with a homer in 153 plate appearances, but that was as a 21-year-old in San Diego. LaHair may only have 65 games in the big leagues, but that doesn't make him young -- just inexperienced. LaHair turned 29 in November and spent eight years in the minors. He hit .288/.377/.508 in his 20 games with the Cubs last season, but he's hardly anyone's idea of a long-term solution. Epstein drafted Rizzo while with the
Red Sox
and then traded for him when he took over the Cubs. It's Rizzo's job to lose. Meanwhile, Byrd is in the last season of his three-year, $15 million contract, so he's more likely to get traded than to be unseated in spring. The 23-year-old Jackson put up a .297/.388/.551 line at Triple-A Iowa with 10 homers in just 48 games after being called up from Double-A. The team's first-round pick in the 2009 draft will have a chance to show he's big-league ready. If the team does go with Rizzo and Jackson, it could be a sign of the team's future and the patience that Chicago will show going forward.

Cincinnati Reds
Left field:
Chris Heisey
vs.
Ryan Ludwick
The Reds signed Ludwick to a bargain deal, hoping he can find the stroke he left in St. Louis. The 33-year-old has always hit well at Cincinnati's Great American Ball Park, putting up a .276/.321/.600 stat line with nine homers in 30 games and 112 plate appearances in his new home park. Both Ludwick and Heisey are right-handed batters who fare better against right-handed pitchers. Ludwick is a career .272/.339/.464 hitter against righties and .237/.316/.435 against lefties. Heisey's split is more extreme -- .288/.346/.539 against right-handers and .180/.248/.300 against lefties. One thing that helps Ludwick's case may be Heisey's strength as a pinch-hitter. Last year the 27-year-old Heisey hit .324/.333/.529 with two homers as a pinch-hitter. There's another option here, as well. If
Drew Stubbs
struggles at the plate, Hesiey could be an option to play center alongside Ludwick in left. That's a remote possibility, though. The Reds are high on Stubbs' power/speed combination and he is an excellent defender in center.

Houston Astros
Third base:
Brett Wallace
vs.
Chris Johnson
vs.
Jimmy Paredes
The fact that the Astros are looking to move Wallace to third base may tell you what they think of Johnson and Paredes. If Wallace shows he can play third, he's the likely favorite. Johnson struggled in 2011 after showing promise in 2010. Paredes hit .286/.320/.393 after taking over the position for the last two months of the season, but he's not seen as a long-term solution. Wallace could be.

Milwaukee Brewers
First base:
Mat Gamel
vs. himself
With
Ryan Braun
's status resolved, the Brewers don't really have many question marks. All five starters return, as do its closer and top set-up man. The lineup, with a platoon of
Carlos Gomez
and
Nyjer Morgan
and newcomer
Aramis Ramirez
at third base seems pretty much set -- barring injury. The only hole is a big one -- the one left by first baseman
Prince Fielder
. The position is Mat Gamel's to lose. The 26-year-old played in just 10 games last season, getting 27 plate appearances. His only extensive big-league experience came in 2009 when he hit .242/.338/.422 with five homers, primarily playing third base. However, he's never been able to establish himself and after playing both third base and the outfield, he played primarily first base at Triple-A Nashville last season, while making six errors in 20 games at third base. He's a first baseman now and a first baseman only. He's hit well at Triple-A, hitting .301/.374/.512 in parts of four seasons at the top level of the minors, hitting 28 home runs for Nashville last season. Gamel will probably start at first on opening day even if he struggles in spring, but right fielder
Corey Hart
could be used at first if Gamel struggles even more. The team did sign Japanese outfield
Norichika Aoki
, who could play right if Hart moves to first.

Pittsburgh Pirates
Third base:
Pedro Alvarez
vs.
Casey McGehee
Acquiring the veteran McGehee from Milwaukee could be seen as a kick in the pants for the second-overall pick of the 2008 draft. Alvarez hit just .191/.272/.289 in 74 games last season and the team may be getting worried about whether he'll ever develop into the star as expected. McGehee is coming off a rough season of his own, hitting just .223/.280/.346 with 13 homers after hitting 23 homers and 104 RBI in 2010. McGehee was replaced by
Jerry Hairston
Jr. at third base during the playoffs and by former Pirate Aramis Ramirez after the season.

St. Louis Cardinals
Second base:
Skip Schumaker
vs.
Daniel Descalso
vs.
Tyler Greene
General manager John Mozeliak has insinuated he'd like to see Greene win the job. The 28-year-old has yet to produce at the level expected of him, hitting just .218/.307/.313 in 150 games and 359 plate appearances. Descalso filled in for the injured
David Freese
last season and responded with a .264/.334/.353 line, while Schumaker is the incumbent having hit .283/.333/.351 while starting 89 games at second, but none in the World Series. All three have some positional versatility.

For more baseball news, rumors and analysis, follow @EyeOnBaseball on Twitter, subscribe to the RSS feed and "like" us on Facebook.