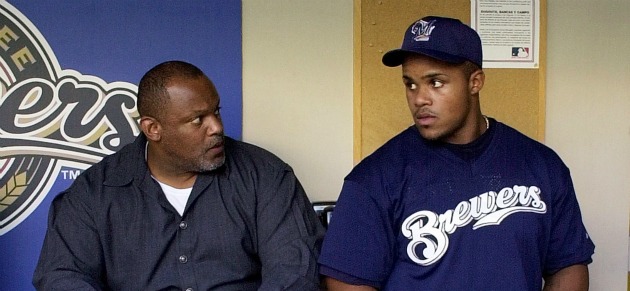 By C. Trent Rosecrans
After
Prince Fielder
signed with the
Tigers
, his father, former big-leaguer Cecil Fielder, said his relationship with his son had improved. On Friday, Fielder was singing a different tune before he was inducted into the Ted Williams Hall of Fame in Florida.
"But I do not know if it's improving," Cecil Fielder said of his relationship with his son,
according to the Detroit Free Press
. "I worry how he's grown as a man."
Fielder said he wouldn't go to his son's games in Detroit, even though the elder Fielder played for the Tigers under owner Mike Ilitch. Fielder said his son had him "thrown out" of the family room in Turner Field in Atlanta a couple of years ago.
"I'm not going nowhere around it," Fielder told the newspaper. "Mr. Ilitch is my man, but there's been some awful [stuff]. I don't want to get in the position where he throws me out of the damn stadium. I'll have a chance to see him on TV."
Fielder also said his son has hid behind agent Scott Boras.
"I say he has to grow up, and sooner or later, he will grow up," he said.
During his introductory news conference in Detroit, Prince Fielder danced around questions about his dad. The two have famously had a falling out, but when Prince signed in Detroit, there had been talk that the relationship between the two had improved. It doesn't sound like that's the case. The younger Fielder has dodged questions about his dad for several years, but at least he's consistent.
For more baseball news, rumors and analysis, follow @EyeOnBaseball on Twitter, subscribe to the RSS feed and "like" us on Facebook.