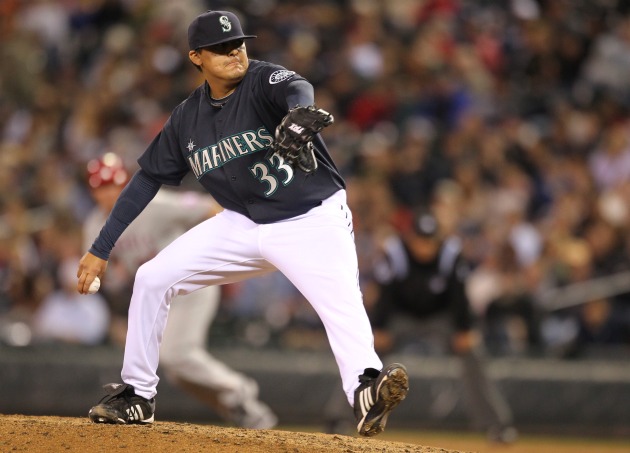 By Evan Brunell
WORST NIGHTMARE: After midnight the morning of Dec. 4, former Nationals closer Chad Cordero got the worst news one could get: his three-month old daughter was dead from SIDS, otherwise known as Sudden Infant Death Syndrome.
Cordero was once one of the best closers in the game, saving 47 games for the inaugural season of the Washington Nationals after coming up with the Mariners. Cordero's been a non-entity for years now, struggling with injuries amid stints with the Mariners and Mets. He is now in camp with the Blue Jays, but first had to go through a horrific experience. His daughter, Teyta, was staying with his grandparents and was put to bed to sleep, but was checked on regularly. The last checkup came around midnight before Cordero's mother, Patti, discovered Teyta had passed at 12:45 a.m.
It was, like, so hard -- for weeks," wife Jamie Cordero said. "Like you didn't want to go to sleep, because you just felt that much further away from her, like it really happened. But looking back right now, I'm just glad those first few weeks are over, because it's just like hell."
Cordero is slated to appear in his first major-league game on Tuesday and will do so with Teyta near him, as he had her face tattooed on his left forearm. It's not clear how realistic a shot Cordero has at the big-league roster, but there's one person in Toronto who believes in him.
"If there was anybody who would fight back, it would be him," Toronto scouting director Dana Brown said, who drafted Cordero when with Montreal. (Washington Post)
STAKE IN METS TO DEPEND ON MONEY: The reports of the Mets selling 20-25 percent of the club are technically not true. While that could end up being the percentage of the team sold, the goal for the Wilpons is to sell whatever share meshes with a specific amount the team is looking for. While this amount would be nowhere near what's needed to gain majority control, it does mean that the new owner could own as much as a third of the company, if not more. It will all come down to what the Mets are valued at. (New York Daily News)
WHO WILL START? The Brewers are having trouble finding a solution to replace Zack Greinke, but the team continues to insist that it will fill the spot internally, with Marco Estrada the latest candidate who will draw the start Tuesday. The club is keeping an eye on the open market, though, and while they won't bring in someone making significant dollars, there will be some intriguing names that could be available. If the Cubs release Carlos Silva, he could head to Milwaukee. The same goes for the Yankees and Freddy Garcia, who may have lost the No. 5 spot to Bartolo Colon. (MLB.com)
UPTON GLAD FOR SUPPORT: B.J. Upton wasn't really paying attention to racial remarks an Orioles fan yelled out during a spring-training game Sunday, but manager Joe Maddon certainly was -- and so were other members of the team who spoke up. Upton, for his part, says he hears these type of comments constantly. "There's 30, 40,000 people in the stands; you're bound to hear it. It's 2011, you know what I mean, but it is what it is. Freedom of speech, I guess." (Tampa Tribune)
THE BEST WEAPON: Manager Terry Francona doesn't have any interest in returning to a closer by committee, which Boston tried the year before Tito arrived. However, he clearly recognizes the value of having a top set up man to deploy where needed, calling Daniel Bard "the best weapon you can have. ... Sometimes you wait to get to your closer, you've already lost. With guys like Bard, it's bases loaded, seventh inning, you're going to win or lose right there."
I JUST PLAY: Jake Peavy would love to stay on schedule and be ready for opening day, but he realizes that manager Ozzie Guillen is the man that makes the decisions. Peavy took care to make clear he wasn't interested in calling the shots and has not done so all spring. In light of Peavy's recent setback, the team will exercise caution in working the righty back into the rotation given how close he is to returning to action. (ChicagoBreakingSports.com)
PICK-TO-CLICK: Devin Mesoraco won't be making the Reds' roster, but he's caught the eye of manager Dusty Baker, who called the backstop his "pick-to-click" player. He could be the first option up from Triple-A if Ramon Hernandez and/or Ryan Hanigan get injured. (Cincinnati Enquirer)
ROAD TO THE BIGS: South Korea said no. Japan said no. So Tim Redding returned stateside and is now on the verge of making the major-league roster for the Dodgers as Vincente Padilla and Jon Garland have both been knocked out by injuries. You don't see that kind of story often. (Los Angeles Times)
BACK IN CENTER: Grady Sizemore will clear another hurdle Thursday when he plays center field for three innings for the first time since having microfracture surgery on his left knee in June. He served as DH in a game Sunday and will likely fill that capacity again on Thursday. (MLB.com)
LEAVING VIERA? The Nationals have been rumored to be looking for a new spring-training destination for quite some time. And now, from the mouth of owner Ted Lerner, it's confirmed that Washington is looking to move out from the east coast of Florida to cut down on travel time. While they would like to stay in Florida, Arizona is not being ruled out. (Washington Post)
For more baseball news, rumors and analysis, follow @cbssportsmlb on Twitter or subscribe to the RSS feed.