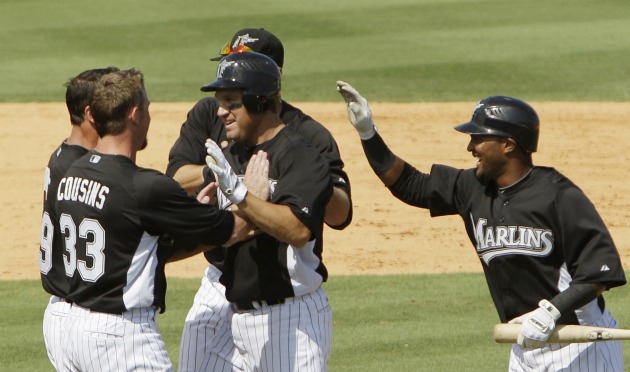 By C. Trent Rosecrans
3 UP
Florida Marlins -- It seemed like something of a joke a week-and-a-half ago when Florida owner Jeffrey Loria blew up at his team over their spring training play. At the time, the Marlins were 5-13 and losers of nine straight. Since then, they've gone 7-1-1, including Saturday's 6-5 victory over the Cardinals with a walk-off single from Wes Helms (above). Sure, the wins don't count, but even in the spring, it's better to win than to lose -- and also to keep the boss happy.
Alex Rodriguez, Yankees -- Rodriguez hit his sixth homer of the spring on Saturday and fifth int he last eight games. A-Rod has had a sweltering spring, hitting .422/.469/.978.
Justin Verlander, Tigers -- It doesn't count, but the Tigers' ace just wrapped up a pretty damn impressive spring. In six starts he went 3-0 with a 0.96 ERA. He struck out 23, walked three in 28 innings, while giving up 21 hits and three runs. He finished it on Saturday, allowing five hits and a run in seven innings against the Phillies.
3 DOWN
Ryan Franklin, Cardinals -- It's the position Franklin is paid to succeed in -- the Cardinals go into the ninth inning with a 5-3 lead and three outs to go for the win. Greg Dobbs led off the bottom of the ninth for the Marlins before Franklin recorded two outs. Jeff Domiguez doubled to make it 5-4, then Jorge Padilla followed with another double to tie the game and then Helms singled in Padilla to give Florida a 6-5 victory.
Braves defense -- Atlanta had five errors in Saturday's 8-2 loss to the Mets. Right fielder Wilkin Ramirez had two errors, while Brooks Conrad, Jonny Venters and Joe Mather each had one. The Braves have 32 errors in 31 games this spring. The Braves had 126 errors last season, one fewer than the Nationals and Pirates in the bottom spot for that stat in the National League.
Aroldis Chapman, Reds -- The Reds fireballer didn't record an out in his outing against the World Champions. After back-to-back singles, a wild pitch allowed the first run to score, then he hit Mark DeRosa. After that Charlie Culberson singled and Andres Torres doubled. In all, Chapman gave up four hits and five runs, with converted infielder Jerry Gil allowing his inherited runners to score, while giving up a run of his own.
For more baseball news, rumors and analysis, follow @cbssportsmlb on Twitter or subscribe to the RSS feed.