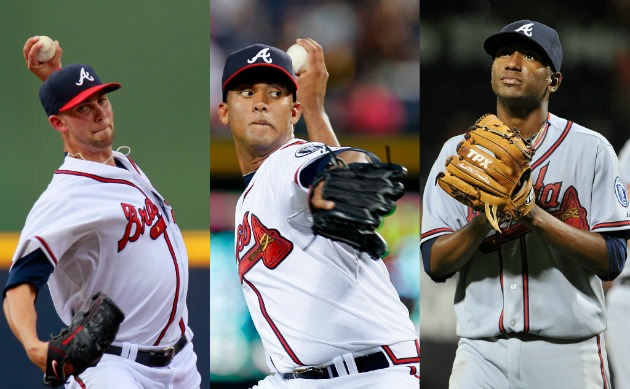 By C. Trent Rosecrans
We finish our look at spring training's position battles with the National League East, home of some of the most intriguing teams in the game -- and the
Mets
.
Previous spring position battles:
AL West
|
NL West
|
AL Central
|
NL Central
|
AL East

Atlanta Braves
Fifth starter:
Mike Minor
vs.
Randall Delgado
vs.
Julio Teheran
There's not a team in baseball that wouldn't drool over having to make this decision. The three are expected to be the keystone to the rotation in the future, but Minor's still the oldest of the bunch having just celebrated his 24th birthday the day after Christmas and therefore expected to be the first to make an impact in the majors. Delgado turned 22 on Thursday and Teheran celebrated his 21st birthday last month. The left-handed Minor made 15 starts last season for the Braves, going 5-3 with a 4.14 ERA. Meanwhile, Delgado dazzled in his seven starts, going 1-1 with a 2.83. Teheran didn't live up to the expectations many had for him -- but he was just 20 and made only three starts. He'll be fine. More than fine.

Miami Marlins
Center field:
Emilio Bonifacio
vs.
Chris Coghlan
vs. Yoenis Cespedes?
This is up in the air until Cespedes makes his decision, although it seems more and more like he'll be a Marlin. There's no question the Marlins want him and there's no question they want him in center field. If he does sign with Miami, the team will have to see how ready the 26-year-old is for the big leagues. He may not start in Miami, but the goal would be to have him there for the long-haul. Bonifacio is coming off a career-best .296/.360/.393 season with 40 stolen bases, but he was aided by a .372 batting average on balls in play -- something that will likely drop, but should still be high because of his speed. He also increased his walk rate, which helped as well. Coghlan won the 2009 Rookie of the Year, but a knee injury in 2010 has hampered him since his first season. He hit just .230/.296/.368 with five home runs and seven stolen bases in 298 plate appearances last season and his future is up in the air.

New York Mets
Second base:
Daniel Murphy
vs.
Justin Turner
vs.
Ronny Cedeno
Murphy's likely to get the nod, as long as he can field the position adequately. Murphy made the majority of his starts at first base last season, but with the return of
Ike Davis
, Murphy needs a home thanks to his .320/.362/.448 line. Turner hit .260/.334/.356 as the team's primary second baseman (71 starts), but is probably no more than a utility player in the long run. Cedeno was signed from the
Pirates
to back up
Ruben Tejada
at shortstop, but he could figure in the second base situation if worst comes to worst.

Philadelphia Phillies
Left field:
John Mayberry
Jr. vs.
Domonic Brown
vs.
Laynce Nix
The job is probably Mayberry's to lose after hitting .273/.341/.513 with 15 home runs and 49 RBI last season. Brown, the team's former top prospect, struggled in his 56 games and 210 plate appearances with the Phillies last season, hitting .245/.333/.391 with five homers. Brown has the talent, but it has to actuate for him to earn more playing time. The left-handed Nix is a backup, but could add depth to the outfield with the absence of
Ryan Howard
at first base. A good fielder, Nix struggles against left-handed pitching, so he's not an everyday type player.

Washington Nationals
Center field:
Rick Ankiel
vs.
Roger Bernadina
vs.
Bryce Harper
Well, Harper won't be in center field, but he's basically fighting for that spot. If he makes the team out of spring, he'll be in right and
Jayson Werth
will be in center. That still seems unlikely, as good as the 19-year-old is. Ankiel won a spring-training battle with
Nyjer Morgan
last year, leading to Morgan's trade to Milwaukee. The Nationals brought Ankiel back on a minor-league deal, but he's still probably the favorite. He hit .239/.296/.363 with nine home runs last season. Like Ankiel, Bernadina hits left-handed. Last year he put up a .243/.301/.362 line with seven home runs in 91 games and 50 starts in center field.
For more baseball news, rumors and analysis, follow @EyeOnBaseball on Twitter, subscribe to the RSS feed and "like" us on Facebook.