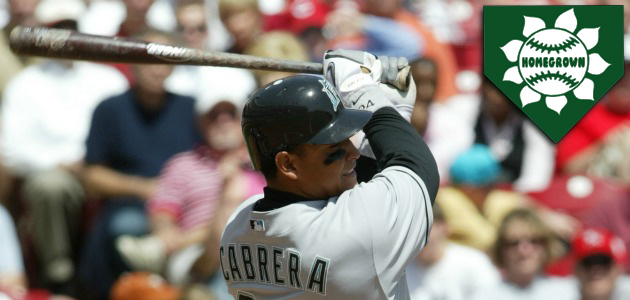 By C. Trent Rosecrans
What if players were only permitted to stay with the team that originally made them a professional? No trades, no Rule-5 Draft, no minor or major league free agency ... once you are a professional baseball player, you stay in that organization. This series shows how all 30 teams would look. We give you: Homegrown teams.
To view the schedule/past entries of this feature, click here.
The new-look Miami
Marlins
went out and spent some cash on big free agents this offseason, but had that cash been around (or, you know, owner Jeffrey Loria willing to spend it before getting his new ballpark), the team could have kept some of the notable talent in South Florida. While the Marlins sent
Josh Beckett
and
Miguel Cabrera
out after winning a World Series, it's intriguing to think of what could have been had the Marlins stayed homegrown.
Lineup
1.
Logan Morrison
, CF
2.
Adrian Gonzalez
, 1B
3. Miguel Cabrera, 3B
4.
Mike Stanton
, RF
5.
Josh Willingham
, LF
6.
Alex Gonzalez
, SS
7.
Brett Hayes
, C
8.
Robert Andino
, 2B
Starting Rotation
1.
Josh Johnson
2. Josh Beckett
3.
Chris Volstad
4.
Jason Vargas
5.
Livan Hernandez
Bullpen
Closer -
Steve Cishek
Set up -
Chris Resop
,
Chris Leroux
,
Sandy Rosario
,
Alex Sanabia
,
Rick VandenHurk
Long -
Brad Hand
Notable Bench Players
The bench is deep and versatile, including young and old alike, infielders and outfielders. Some of those guys include
Gaby Sanchez
,
Edgar Renteria
,
Ross Gload
,
Matt Dominguez
,
Mark Kotsay
,
Chris Coghlan
and
Jeremy Hermida
. Of those, Sanchez and Dominguez are good, young players that are just blocked by superstars, while the rest are clearly bench players.
What's Good?
Gonzalez, Cabrera, Stanton? Does any pitcher want to face that heart of the order? That's two MVP-worthy players plus the best young power hitter in the game. The bottom of the lineup offers a respite, but it's not like it's a wasteland. The top of the rotation can stand in just about any postseason series, throwing Johnson and Beckett back-to-back.
What's Not?
Of course, once you get past the two Joshes, things get a little easier. And once you get past them to the bullpen, the road gets a little easier, as well. Cishek may one day be a closer, and had three saves last year, but there's a reason the team went out and signed
Heath Bell
. Morrison probably isn't the first choice to play center field, but he's athletic enough to do it, and having Stanton in right helps out, as well. Cabrera hasn't played third base since 2008, but it was a way to fudge the lineup a bit.
Comparison to real 2011
The Marlins were 72-90 in 2011, the same as their Pythagorean record. Of course, they didn't have Johnson for most of the season, so it's hard to really predict where he'd be with this squad. This team is probably better than the 2011 team, scoring more runs, but also struggling in the rotation, just as the regular Marlins did. Better than the 2011 team, this team is not as good as the 2012 team is shaping up to be.
Next:
San Francisco
Giants
For more baseball news, rumors and analysis, follow @eyeonbaseball on Twitter or subscribe to the RSS feed.