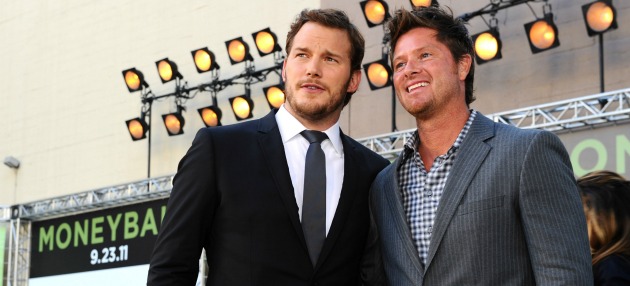 By C. Trent Rosecrans
With the Moneyball movie, I've gone from skeptical to excited to disappointed to indifferent to cautiously optimistic -- and I still haven't seen it.
It's all anyone's talking about, of course, even though we do have two good races going for the wild card right now, the tale of a team that lost in the first round of the playoffs is apparently more interesting because Brad Pitt is involved. Pitt, who usually graces the cover of supermarket checkout magazines, is even on the cover of Sports Illustrated this week. I don't expect to see him on the front of Baseball America, but I wouldn't be shocked if he were.
Or at least those of us with keyboards. I've heard reviews all over the board -- from those too close who go against the grain and hate everything to those who are indifferent and those who loved it. I've heard people named in the book (and movie) who thought it was awful and a complete work of fiction and others who show up as characters who say it does a great job of showing what it was like. It just goes to show that perception differs much more than reality.
One of those who says good things about it is Scott Hatteberg, who is played by Chris Pratt in the movie (both are pictured above, with the real-life Hatteberg on the right).
"It caused the hair to rise on the back of my neck," Hatteberg told Baseball Prospectus' John Perrotto.
When I covered Hatteberg, he was one of my favorite guys to interview because of his insight to the game -- and his outside interests. I ran into him at a Wilco concert once and we'd often talk music and movies. He's also extremely intelligent and while I used to say I could see him as a manager (and still could), now he's working in the A's front office and I could easily see him as a general manager.
Hatteberg's one of the reasons I want to see the movie, with the portrayal of scouts as simpletons relying on outdated methods to judge players and the oversimplification of saber metric principals as reasons I'm skeptical.
The scene in the preview with David Justice having to put money in a Pepsi machine is the one that makes me cringe the most -- it's total fiction, as Daniel Brown of the San Jose Mercury News points out in this handy true-false scorecard on the movie -- and makes me wonder if I'll be one of those watching just to point out inaccuracies as opposed to just sitting back and trying to enjoy the movie as a whole. Sometimes that's tough -- any time I see a press conference where reporters start clapping usually make me hate just about the best of movies. A little knowledge on a subject can help when enjoying a movie, but more info can totally ruin it.
Either way, I guess they'll get my money and isn't that all that matters?
Just a touch: One of the biggest differences between the movie and the book is that Paul DePodesta didn't want his name used, so instead there's a fictionalized character, Peter Brand, who plays the DePodesta part. While Jonah Hill doesn't resemble DePodesta physically, his character hits the nail on the head, the Los Angeles Times' Bill Plaschke writes.
Monty got a raw deal: Even if it appears NotDePodesta was portrayed well in the movie, its main villain, Grady Fuson is not portrayed accurately, according to Mac Engel of the Fort Worth Star-Telegram. The foil for Billy Beane in the movie, Fuson -- now back with the A's -- is portrayed as a bit of a dope and dinosaur. In the movie, Beane even fires Fuson, when in fact Fuson was hired away by the Rangers, something that Beane was not happy about at the time.
Strange: The Dodgers are a mess, but that may not preclude them from making some big waves in the offseason, Bill Shaikin of the Los Angeles Times reports. If the Dodgers are in play, that suddenly makes them a team to watch for either of the two big free agent first basemen, Prince Fielder or Albert Pujols. The team could also look to lock up Matt Kemp.
So fast, so numb: Of the 30 teams that have won at least 100 games from 1980 to 2010, only four have won the World Series -- the Yankees in 1998 and 2009, the 1986 Mets and the 1984 Tigers. Of those 30, only 11 made the World Series. Since 1986, three teams with fewer than 88 wins have won the Series -- the 2006 Cardinals (83), 2000 Yankees (87) and 1987 Twins (85). The Phillies (98) and the Yankees (95) are the only two teams with a shot at 100 wins this season. [San Francisco Chronicle]
Sitting still: Blue Jays rookie Brett Lawrie won't play again this season after breaking his right middle finger on Wednesday. Lawrie suffered the injury before Wednesday's game, fielding ground balls. [MLB.com]
Binky the doormat: Cubs manager Mike Quade says he thinks he'll be back in 2012. [Chicago Sun-Times]
Departure: Although unlikely to return to the Orioles, Vladimir Guerrero wants to return in 2012, and beyond. Guerrero would like to play "two or three" more years, he told the Baltimore Sun. Guerrero is three hits away from all-time Dominican hit-leader, Julio Franco, who has 2,586 hits. He's also just one homer away from 450.
Finest worksong: Cardinals hitting coach Mark McGwire says the team's communication has been a key feature to its offense. The team has stressed that players need to be in the dugout talking after at-bats instead of going straight to the video room. [St. Louis Post-Dispatch]
Endgame: Cubs third baseman Aramis Ramirez will explore free agency, even if the Cubs pick up their part of the $16-million mutual option, which is unlikely anyway. [Chicago Sun-Times]
Moral kiosk: Marlins president David Samson tried to help the victim of a traffic accident while on his way to the team's new park on Wednesday. Samson was lauded for his attempts to help the victims, but he deflected any praise. [Miami Herald]
Everybody hurts: Yankees right-hander Phil Hughes was scratched from his scheduled start against the Rays on Wednesday and the rest of his season is in doubt. An MRI revealed his back spasms were actually inflammation from a herniated disk he first suffered in 2004. Hughes may be done for the season, but the team hopes he can return as soon as this weekend. [New York Post]
Hairshirt: The new Marlins logo received "mixed" reviews, according to the Miami Herald. That sounds generous. My favorite comment from my twitter feed was that it looked like someone "vomited Skittles." Former Marlin Dan Uggla was asked about his opinion of the new logo and said he wasn't a big fan. When asked more specifically what was wrong with it, he answered "everything."
The one I love: While the Marlins are going in a totally new direction for their new logo, the Blue Jays are apparently going back to the past for their new logo. Don't expect too many complaints (although there will be some, it's the internet, there are always complaints). [The Score]
New test leper: Because of MLB's relation with the Dominican winter league, Manny Ramirez will not be eligible to play in his native land this winter as he'd hoped. [ESPN.com]
For more baseball news, rumors and analysis, follow @eyeonbaseball on Twitter or subscribe to the RSS feed.