By Evan Brunell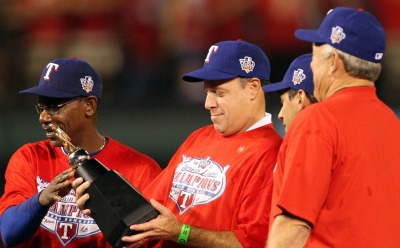 The reign of Texas Rangers owner Chuck Greenberg was a short-lived one, as the Pittsburgh lawyer has resigned his position of CEO, the team announced in a news release.
"We greatly appreciate Chuck Greenberg's hard work, professionalism and unwavering commitment to the team, our fans and the Dallas-Fort Worth communities," Ray Davis and Bob Simpson said in the statement. The two are co-chairmen of the board of directors. "Chuck is a dynamic leader with superb strategic, operational and business development skills, and under his and Nolan Ryan's direction, we have accomplished a great deal in a short time."
Greenberg (photo, holding AL Championship trophy), along with team president Nolan Ryan defeated Mark Cuban and Jim Crane in a well-publicized auction for the rights to the Rangers on Aug. 3 after Tom Hicks lost the team due to money issues. Greenberg and Ryan then saw Texas make a run to the World Series before falling to the San Francisco Giants in six games. Ryan will take over as CEO with Greenberg's departure, marking a third face of the Rangers' ownership in a year.
"Chuck's departure will have no effect on the team's operation and we look forward to working with Nolan Ryan as this organization continues to grow and prosper," Davis and Simpson added.
While no specific reason was cited for Greenberg's resignation, the Ft. Worth Star-Telegram reports that speculation is centered on Greenberg's methods causing friction with fellow investor and team president Nolan Ryan along with MLB. Greenberg made headlines during the World Series when he commented on how awful he felt Yankee fans were during the ALCS. He would later draw the ire of Yankees president Randy Levine over the winter for seemingly innocuous comments on Texas' pursuit of Cliff Lee.
The Star-Telegram has more:
The problems date to late last season, shortly after Rangers Baseball Express was approved as owners Aug. 12. According to sources, members of the Atlanta organization weren't pleased with how Greenberg shifted the Rangers' High-A affiliate to Myrtle Beach, one of the minor-league clubs he owns that had long been associated with the Braves. Their discontent reached the Commissioner's office at MLB headquarters in New York.

In December, about five weeks after the World Series, members of the baseball operations staff were taken aback by how involved Greenberg became in daily internal discussions during the winter meetings. A third trip to Arkansas on the final day of the meetings to see Cliff Lee wasn't well-received universally.

More recently, Greenberg and team president Nolan Ryan were pitted against each other as an extension for general manager Jon Daniels was being pounded out. Greenberg had sold the suite at Rangers Ballpark that Daniels had used to host families of front-office personnel as well as conduct meetings. The suite was to be part of the Daniels extension, and it was sold despite objections from Ryan.
Also of note is that Greenberg is not the majority owner of the Rangers -- he simply led the group that eventually took control and served as CEO.
"I have great respect for the Texas Rangers franchise and am enormously proud of all we have accomplished together since August," Greenberg said. "Unfortunately, Nolan Ryan, the co-chairmen and I have somewhat different styles. While I am disappointed we did not work through our differences, I remain wholeheartedly committed to doing what's right for the franchise. Together we concluded it is best for all concerned for me to sell my interest back to Rangers Baseball Express and move on. I do so with a heavy heart, but with every confidence in the direction that the new management team is taking the Rangers and, with Nolan at the helm, I know this franchise will continue to thrive and reach even greater heights both on and off the field."
If there's one thing Bud Selig dislikes in owners, it's those who make waves, which Greenberg has been doing, clearly, since becoming the leader of Texas. He's proved popular with the fanbase but that's apparently not enough to satisfy his detractors. He's already been phased out, as he was not involved during meetings with ownership and advertising representatives this past weekend. Over the last few months, Ryan has been the one to emerge as the public face of the team.
For more baseball news, rumors and analysis, follow @cbssportsmlb on Twitter or subscribe to the RSS feed.