By Matt Snyder
In an effort to make the park a little less extreme -- in favor of the pitchers -- the
Mets
have moved in and lowered the fences in the Citi Field outfield for this upcoming season. The changes are below, with the orange line being the old wall and the blue line being the new one (also note that the left field wall was 16 feet tall and it's now only eight feet tall, among several other alterations).
And just to make things a bit more familiar for the next six weeks, the Mets have a chain-link replica of Citi Field in Port St. Lucie, Fla. for spring training.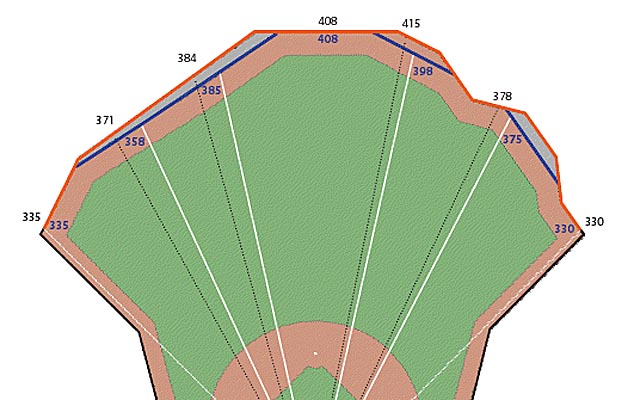 The replica field isn't one they'll use for spring games, as it's merely a practice field (Field 7). Still, they can get in some work on the field and become more comfortable with the new dimensions. Three players --
David Wright
,
Daniel Murphy
and
Lucas Duda
-- took batting practice on Field 7 Wednesday and there's already an excitement. Here are some quotes on the first day:
• "Today shows you that there's a big difference," Mets manager Terry Collins said (
MLB.com
). "It's going to change the way these guys think when they're at home plate."
• "I saw David [Wright] hit like four or five balls that last year wouldn't have been over the fence and now they're homers," Duda said (
MLB.com
). "I saw Murph hit one out the other day. It's the first day and the wind was blowing out a little bit, so you've got to factor it in. But it was a good day."
• "You could tell. And if you couldn't tell, [Mets COO] Jeff [Wilpon] was there to remind you," Wright said (
ESPN New York
).
• "The wind was blowing out to left pretty good, so that felt pretty good," said Murphy (
ESPN New York
). "I saw David hit some balls out. I think he hit one out to right-center. I think Jeff came up and said something to him. He was like, 'See, I told you we brought them in.' And then Duda hit a couple out to left. And there was one ball, the last swing I took, to 358 in left-center that ran out of real estate that I was like, 'All right, I kind of like that a little bit.'"
For more baseball news, rumors and analysis, follow @EyeOnBaseball on Twitter, subscribe to the RSS feed and "like" us on Facebook.