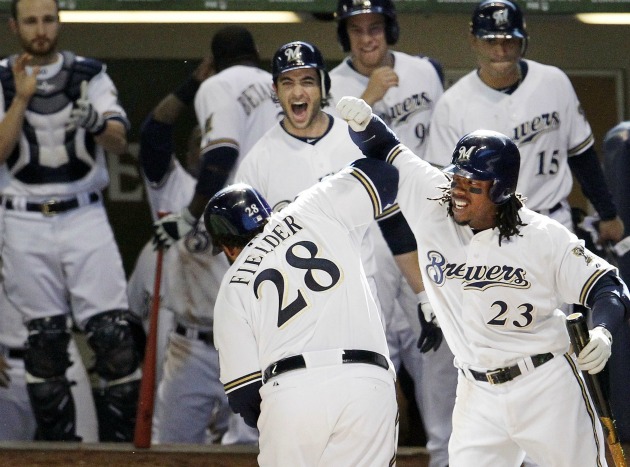 By C. Trent Rosecrans
Diamondbacks at Brewers, 5:07 p.m. ET, Miller Park, TBS
PITCHING MATCHUPS
Hudson vs. Brewers: In Hudson's only start against the Brewers this season, he allowed six runs (five earned) in just four innings, while giving up eight hits. Both Hart and Shaun Marcum took him deep in the game at Miller Park on July 4, but Arizona came back to beat the Brewers that day. Every Brewer starter who has faced Hudson has at least a hit against him. Hudson's never faced Braun.
Greinke vs. Diamondbacks: Greinke earned the loss in his only start against the Diamondbacks this season, but he pitched well enough to win. On July 21 at Chase Field, Greinke allowed just five hits and two runs in seven innings, but his offense was shutout. Montero and Upton touched him up for solo homers in the loss. Upton is 3 for 7 in his career against Greinke, with a double and a homer.

NOTES
The Brewers have announced the roof at Miller Park will be closed for today's game. Weather.com says it will be 62 degrees at first pitch. The roof was closed for Game 1, but it was about 10 degrees cooler. The Brewers say the shadows are not as bad when the roof is closed for a 5 p.m. ET start.
Although Milwaukee manager Ron Roenicke hinted he would play Casey McGehee in Game 2, he stayed with Hairston, who drove in the Brewers' first run in Game 1 with a sacrifice fly. McGehee is 5 for 5 with a homer in his career against Arizona's Hudson, while Hairston is 1 for 4.
Greinke is pitching on three days rest, something he did in his last start, going 6 innings, allowing five hits and two earned runs in a victory over the Pirates that helped Milwaukee get homefield advantage for this round of the playoffs. He threw just 74 pitches on Wednesday. Greinke is much better at home than on the road. At Miller Park, he's 11-0 with a 3.13 ERA and 5-6 with a 4.70 ERA on the road.
Greinke wasn't the only Brewer better at home -- the whole team performed better at Miller Park. The Brewers had the best home record in baseball, going 57-24 at home and 39-42 on the road.
Hudson has struggled in first innings this season, putting up an average of 6.00 in the first inning.
The only real lineup change from Game 1 is Arizona's Goldschmidt starting at first for Overbay. Overbay has faced Greinke more than any other Diamondbacks, and has been successful. He's hitting .348/.375/.652 with two homers and six RBI in 23 at-bats against the Brewers' right-hander.
For more baseball news, rumors and analysis, follow @eyeonbaseball on Twitter or subscribe to the RSS feed.