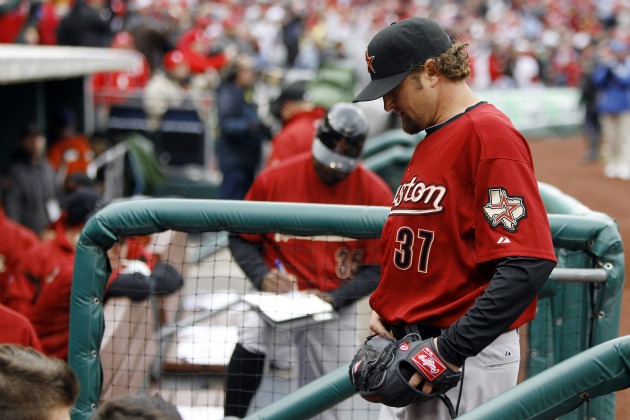 By C. Trent Rosecrans
The National League Central appears to be one of the most competitive divisions in baseball, with up to four legit contenders for the crown, so every little difference is going to be magnified when it comes to the end of the season.
While we're a long way from magic numbers, but the division's closer could be cause for concern.
In the first weekend of games, NL Central closers blew four of eight save chances -- including the first three -- and had an ERA of 12.91. Only Pittsburgh's Joel Hanrahan (who is 2 for 2 on save opportunities) hasn't allowed an earned run among the division's six closers.
All six closers have had save opportunities, and half of them are save-less. Milwaukee's John Axford has allowed four earned runs and hasn't finished an inning in two appearances, allowing a walk-off three-run homer to Cincinnati's Ramon Hernandez on Thursday and allowing two hits on Sunday before being replaced.
St. Louis closer Ryan Franklin gave up a game-tying homer in an eventual opening-day loss to the Padres and Houston's Brandon Lyon allowed six hits and three runs, picking up the loss against the Phillies on Friday.
The Cubs' Carlos Marmol struck out the side on Saturday for his first save, but Sunday he walked one and allowed two hits to cough up a lead, sending the Cubs to a 5-4 loss to the Pirates (and setting up Hanrahan's second save).
And then there's Cincinnati's Francisco Cordero, who picked up a save, but didn't instill much confidence in anyone, allowing two hits and a run in Saturday's Reds victory against the Brewers.
It could be a wild ride this year in the NL Central this season, and that's just the ninth inning.
HOMETOWN BOY -- Padres manager Bud Black said part of his reason for setting his rotation as he did was to allow San Diego native Aaron Harang make the start for the Padres' home-opener at Petco Park on Tuesday.
Black said it also helped that Harang has a history of opening day starts. Harang started five consecutive opening days in Cincinnati. He is in his first season with the Padres. [San Diego Union-Tribune]
PRETTY MUCH -- Dustin Pedroia on the Rangers' sweep of the Red Sox: "They kicked our ass, that's it." [Boston Herald]
RAY OF HOPE -- On opening day, the Rays announced a long-term deal with Wade Davis. The team's No. 1 starter, David Price, said he'd be interested in a long-term deal as well.
"Everybody here knows that I feel very comfortable here with the Rays," Price told MLB.com. "And I feel like I fit in very well with this organization and how they do stuff. If it's something we're able to get done, it's definitely something I'd like to do."
TURF CALF? -- Johnny Damon said Tropicana Field's artificial surface may have contributed to his right calf tightness that forced him to be scratched from Sunday's lineup. [St. Petersburg Times]
ANGEL TOURISTS -- Howie Kendrick and Torii Hunter talk about how special the Negro Leagues Baseball Museum in Kansas City is to them. [Orange County Register]
BASEBALL ART -- Aubrey Huff made a diving catch in Los Angeles on Saturday and before Sunday's game, Pat Burrell, Dan Runzler and Brandon Belt taped a body outline in the outfield where Huff made his catch. Here's a picture of their art.
HALLOWED GROUND -- Volunteers cleaned up at the old Tiger Stadium and finished off with a pickup game of baseball. The Navin Field Grounds Crew will be doing this every week during the summer in Detroit, hoping to allow everyone to use the field. [Detroit Free Press]
JAPANESE HERITAGE DAY -- The best highlight of Sunday's Japanese Heritage Day in Oakland was when Ichiro Suzuki caught Kurt Suzuki's fly in right and threw out Hideki Matsui at third base. The A's and their fans also raised more than $65,000 for earthquake and tsunami victims in Japan. [San Francisco Chronicle]
HUMIDOR SECURITY -- MLB has tightened its security procedures concerning the humidor at Coors Field, an "authenticator" will keep an eye on all the baseballs from when they're taken out of the humidor to the umpire's room where they're rubbed down to the Rockies dugout, where they're kept. During the game, he'll watch the bag. [Denver Post]
CARDS OWNER CONFIDENT -- Cardinals chairman Bill DeWitt Jr. is happy with his team and confident, but added the team does have playroom flexibility of "several million dollars" if the team needs something later in the season. [St. Louis Post-Dispatch]
COPYING BAGWELL -- Astros shortstop Clint Barmes will wear a protective pad on his left batting glove when he returns to action. Barmes suffered a fractured bone in his hand late in spring training when he was hit by a pitch. Barmes said it's the exact same pad attached by velcro that former Astro Jeff Bagwell used to wear. Barmes said he wore a similar pad after breaking his hand in 2002, but will make it a permanent addition this time. [MLB.com]
VLAD THE ENIGMA -- Vladimir Guerrero has wowed us on the field for years, but not much is known about him off the field. But the Baltimore Sun's Kevin Van Valkenburg and Jeff Zrebiec have managed to write a really interesting feature on the new Oriole. For instance, before every home series, Guerrero writes down the name of all the Spanish-speaking players and coaches coming to town, and will then have his mom cook food for all the Latin players and bring it to the park. Guerrero's mom has lived with him since he was in Montreal. [Baltimore Sun]
REALLY? -- Wearing a guy's jersey to a game is one thing, but a whole uniform, catching gear and all? This Philadelphia fan was at Sunday's game wearing complete catcher's gear, a glove, mask and even taped wrists. I wonder if security allowed him through the gate with metal spikes? [Philadelphia Daily News]
OAKLAND'S 'DUMP' -- Apparently the field at the Oakland Coliseum smells like sewage. And that's not all that's wrong with the Coliseum. [San Francisco Chronicle]
GREINKE PROGRESSING -- The Brewers expect Zack Greinke to throw off the mound at some point during the team's week-long homestead starting today. Greinke still isn't expected to return this month, but throwing off the mound is the first step to determining when he can return. He played long toss and threw from 60 feet before Sunday's game in Cincinnati. [MLB.com]
BLAKE BETTER -- Casey Blake is eligible to come off the disabled list on Wednesday and hopes to be ready when he is eligible. The Dodgers are in Denver on Wednesday. [Los Angeles Times]
REWARD OFFERED -- A $10,000 reward has been offered for information leading to an arrest in the case of Dodger fans beating Giants fan Bryan Stow, 42, a Santa Cruz paramedic and father of two. Stow is currently in a medically induced coma. [Los Angeles Times]
SIGNS YOU'RE OLD -- When Jim Thome faced Blue Jays rookie Kyle Drabek on Saturday, the TV folks accidentally put up Thome's career numbers against Doug Drabek, Kyle's father. [UniWatch Blog]
IZZY SHELVED -- Jason Isringhausen, attempting a comeback with the Mets, left an extended spring training game on Saturday after feeling a "twinge" in his back. [New York Daily News]
DIFFERENT SWING -- John Smoltz talks about his attempt at a golf career. [Detroit Free Press]
For more baseball news, rumors and analysis, follow @cbssportsmlb on Twitter or subscribe to the RSS feed.