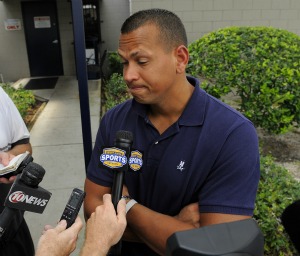 By C. Trent Rosecrans
You know that story about the illegal poker game with cocaine, celebrities, fights and Alex Rodriguez? It's a great story, but someone at the game said it all happened -- except for the A-Rod part.
Professional poker player Dan Bilzerian -- who was at that game in Beverly Hills and was the named source in the Star Magazine story fingering A-Rod -- told the New York Daily News that Rodriguez wasn't there.
"A-Rod was not at that game," Bilzerian told the Daily News. "It's ridiculous."
He added he remembered the game in November of 2009 at Cody Leibel's house, because he was "stiffed."
"He wasn't there, I'm telling you," Bilzerian said. "He was playing in the World Series at the time."
The 2009 World Series had three games -- Games 4, 5 and 6 -- in the month of November, with the Yankees winning the title on Nov. 4 at Yankee Stadium.
The second source in the Star Magazine report told the Daily News that he wasn't at the 2009 party, but knows a guy who had been at an "illegal house game" with Rodriguez.
"I never played with him in a home game, but I know [someone who] witnessed him at one. It was an illegal house game," the source told the newspaper, who requested anonymity and didn't "want to get A-Rod in trouble."
On Thursday, Rodriguez's publicist said there were "numerous factual inaccuracies" in Star Magazine's report.
For more baseball news, rumors and analysis, follow @cbssportsmlb on Twitter or subscribe to the RSS feed.