By Evan Brunell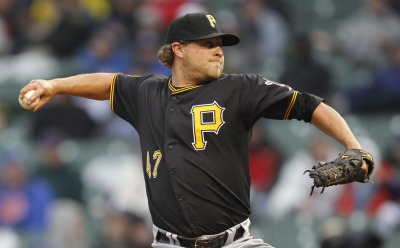 Prior to the season, Evan Meek was one of two candidates to close games for the Pirates. While the club eventually chose Joel Hanrahan, Meek was expected to be an important setup man.
Instead, Meek (pictured) has given up five runs in eight innings, allowing 12 hits and walking five. He's had problems with his right shoulder and has lost velocity (what is it with lost velocity and pitchers these days?), and the Pirates are expected to place him on the disabled list Saturday so he can rehabilitate his shoulder and strengthen it, as the Pittsburgh Post-Gazette notes. A virus is likely responsible for the lost velocity, as he's also lost general strength.
It's unclear who will replace Meek, but the Gazette believes Daniel Moskos could receive the call. Moskos was a controversial pick with the No. 4 overall selection in 2007 as he was considered yet another budgetary pick. Moskos was picked ahead of players such as Matt Wieters (who was taken directly after), Matt LaPorta, Madison Bumgarner, Jason Heyward and J.P. Arencibia.
But finally, at the age of 25, Moskos might be ready for prime time. He started his professional career as a starter but was switched to the bullpen last season and dominated Double-A although his Triple-A stint was a mess. He had 20 walks and 18 strikeouts over 19 innings for Indianapolis, but he's repeating Triple-A this season and has gotten off to a fast start. Moskos will likely never justify his No. 4 selection could emerge as a top reliever.
For more baseball news, rumors and analysis, follow @cbssportsmlb on Twitter or subscribe to the RSS feed.