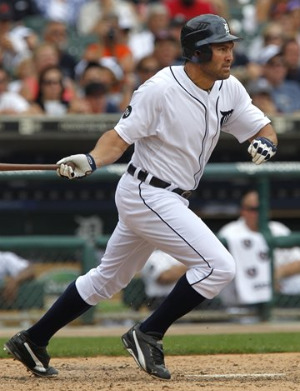 Could the Caveman be headed back to his old haunts?
The
Red Sox
claimed
Johnny Damon
on waivers Monday, giving the team 48 hours to get Damon back into a Red Sox uniform as Joel Sherman of the
New York Post
reports
.
Damon, of course, is perhaps best known for two things: his time in a Red Sox uniform where he banded together with other "Idiots" and won a World Series in 2004. He's also renowned for saying he would never play for the
Yankees
, then doing just that and nabbing a championship ring in 2009.
In his first year with the
Tigers
, Damon has split time between left field and designated hitter, hitting .270/.355/.409 and proving he's still got some thump left in the bat as a 36-year-old. Damon is finishing up a $8 million deal, meaning the Red Sox would have to assume just over a million left on the salary -- and perhaps some players, if the Tigers won't deal Damon without getting names in return.
Detroit is 11 games out of first place, essentially done for the season. They are expected to make
Brandon Inge
and
Jhonny Peralta
available through waiver deals as well. It's possible the Tigers would revoke trade waivers on Damon if they can't get anything beyond salary relief, but for a team out of the race and in a city with plenty of economic struggles, it's hard to imagine the Tigers not forking Damon over.
Damon has played just two games in the field since July 28, serving as the team's primary DH, so Damon isn't exactly required for outfield depth. The Tigers could DH
Carlos Guillen
when he returns from the disabled list or give both
Ryan Raburn
and
Brennan Boesch
full time duty. As for Damon in Boston, he would replace the motley crew of
Daniel Nava
,
Bill Hall
and
Darnell McDonald
, taking over left-field duties.
As Sherman
notes
, Damon said last season he would not consider returning to the Red Sox because of his experience moving from Boston to New York and not wanting to go through that another time. However, that was before the Yankees didn't bring Damon back, who willingly letting him go while the Red Sox chased his services. In addition, it's been proven that Damon doesn't always stick to his word. The chance for Damon to go back to his old stomping grounds and try to engineer another comeback will be very difficult for him to turn down.
And yet, he may not be inclined to do just that, as AOL Fanhouse's Ed Price
reports
.
The Red Sox certainly hope he changes his mind, however. Boston's left-field combo of Nava, Hall and McDonald is not enough to vault the team solidly into contention with an upcoming series against the
Rays
. Nava is a great story, but has struggled in his last 10 games, hitting .158. In addition, Nava hasn't proved himself on the major-league stage yet, while Damon doesn't blanch from the bright lights.
As for Hall, he would certainly lose playing time but would at least be in a time share with
Jed Lowrie
at second -- not to mention that Damon probably wouldn't be a full-time player with the terrible defense he brings to the game these days. Darnell McDonald (especially against left-handers) and Bill Hall would still see ample time in left, mostly in parks with a large left field as opposed to the Green Monster at Fenway.
Can you imagine Damon's return to Fenway Park? One thing's for sure: the boos would become cheers -- especially if Damon brings back the famed beard.
-- Evan Brunell
UPDATE:
Even if Damon is undecided,
David Ortiz
isn't. Ortiz gave his unconditional support to a Damon resurrection in Boston.
Ortiz said to reporters (
via the Boston Herald
): "Let me call him right now. … That would be great, man. You know Johnny. Johnny's a fun person to be around. I'm pretty sure he'd be excited to be back. For all those people that did him wrong, he could put that back together — make 'em forget about the Yankees."
Catcher
Jason Varitek
said Damon is a "special player" and "one hell of a teammate."
UPDATE:
Damon said he won't be thinking about his future during tonight's game (for the Tigers, by the way): "I promise I won't think about it during the game. I'll think about trying to get hits and stuff." (Via MLB.com's
Jason Beck's Twitter
.)
-- C. Trent Rosecrans
For more baseball news, rumors and analysis, follow @cbssportsmlb on Twitter or subscribe to the RSS feed .