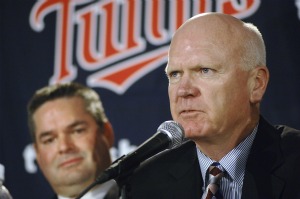 By C. Trent Rosecrans
What's old is new again, as the Twins have fired general manager Bill Smith and named former GM Terry Ryan the interim GM.
Smith, who took over for Ryan in 2007, will be offered another job in the organization, owner Jim Pohlad said in a statement released by the team.
"No one in the Twins' organization wants to win any more than Bill," Pohlad said in the release. "He is unquestionably loyal, committed and talented. The Twins goal is to get better in 2012 and beyond. Bill was equally motivated to achieve that goal but we differed in the scope and approach that was required."
Smith has worked for the Twins since 1986. In four seasons as the team's GM, the team went 332-318 with two AL Central titles. He was the man behind the trade of Johan Santana and J.J. Hardy and also signed Justin Morneau and Joe Mauer to lengthy contract extensions. He also sent Wilson Ramos to Washington for Jon Rauch at the trade deadline 2010, which has come under fire as Mauer's injury concerns have increased.
Ryan, 58, was the team's general manager form 1994-2007.
"As we move ahead, I'm looking forward to the challenge of improving this club for 2012 and beyond," Ryan said in the statement. "We have many assets in place including a strong front office, manager, coaching staff and returning core of players. We have a lot of work to do in relation to development of our roster, but I'm optimistic in our collective abilities to ensure the future on-field success of this franchise."

Ryan, according to the release, "will be responsible for succession planning within the baseball department with the intent to identify future leadership candidates."

"The Pohlad family asked me to come in and take over for Bill as interim GM, is that for one year or ten years, I don't know," Ryan said during the team's news conference with Ryan and president Dave St. Peter at Target Field on Monday.

Ryan also announced that former Reds general manager Wayne Krivsky would also re-join the Twins organization as a "professional scout and assistant to the general manager" -- or "interim" general manager. Krivsky left the Twins to take over the Reds in 2006 before being replaced by Walt Jocketty in 2008. Since then he has worked for the Orioles and Mets.

The Twins payroll was around $113 million last season and Ryan said the team would likely be somehwere around $100 million in 2012.
Miller: Twins shock baseball world in firing GM Smith
For more baseball news, rumors and analysis, follow @eyeonbaseball on Twitter or subscribe to the RSS feed.