By C. Trent Rosecrans
The
Cardinals
are the World Series champions, but for one of the few times in recent memory, baseball fans were rewarded with an exciting, entertaining World Series. Looking over the last 10 World Series, there have been some stinkers -- good storylines, but often better storylines than games. Here's looking at the last 10 World Series and ranking them by what happened on the field and on the field only, with 2011, of course, leading the way in a landslide.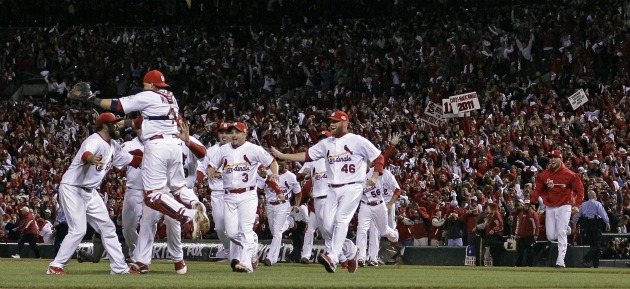 1. 2011:
Cardinals over
Rangers
in 7
MVP: David Freese
What it's remembered for: Well, we'll see -- it could be Chris Carpenter's gutty Game 7 effort, Albert Pujols' historic Game 3 performance, David Freese's Game 6 heroics, Tony La Russa's Game 5 blunders, the Cardinals' rally from being down to their last strike twice in Game 6 or even Mike Napoli's amazing series. It's probably too early to tell -- just like it's to early to tell where this one will fall in the list of all-time great series, but we do know for sure right now that it's the best we've seen in a while.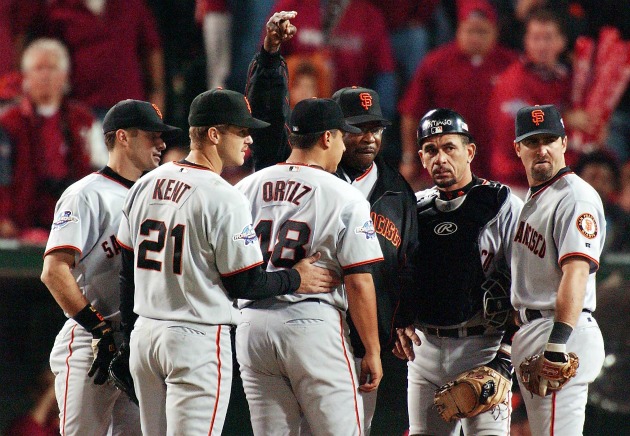 2. 2002: Angels over Giants in 7
MVP: Troy Glaus
What it's remembered for: With the Giants just eight outs from the title, manager Dusty Baker pulled Russ Ortiz with one out in the seventh after back-to-back singles. Baker handed Ortiz the game ball before sending him back to the dugout before Scott Spiezio hit a three-run homer off of Felix Rodriguez. The Angeles rallied for three more runs in the eighth inning to win 6-5 and went on to win Game 7 behind John Lackey.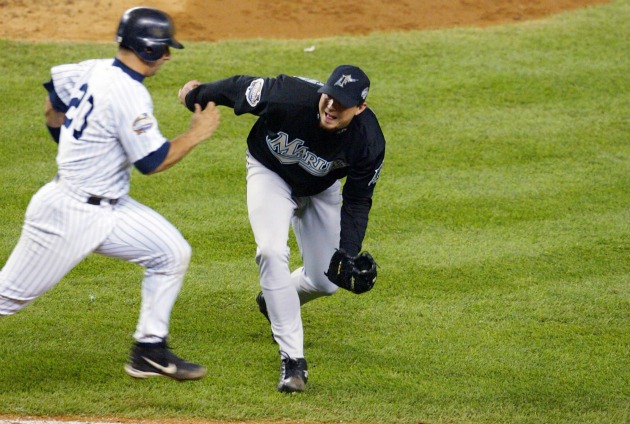 3. 2003: Marlins over Yankees in 6
MVP: Josh Beckett
What it's remembered for: Beckett started Game 6 on three days' rest and shutout the Yankees on five hits to clinch the title at Yankee Stadium.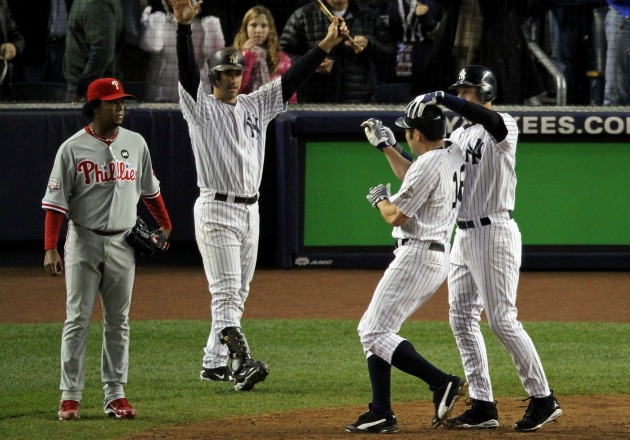 4. 2009: Yankees over Phillies in 6
MVP: Hideki Matsui
What it's remembered for: Long-time Yankee nemesis Pedro Martinez started Game 6 for the Phillies, but was taken out of the game after giving up four runs in the first four innings and took the loss, while Andy Pettitte recorded his record 18th career postseason victory. It was the last game Martinez would pitch in the majors.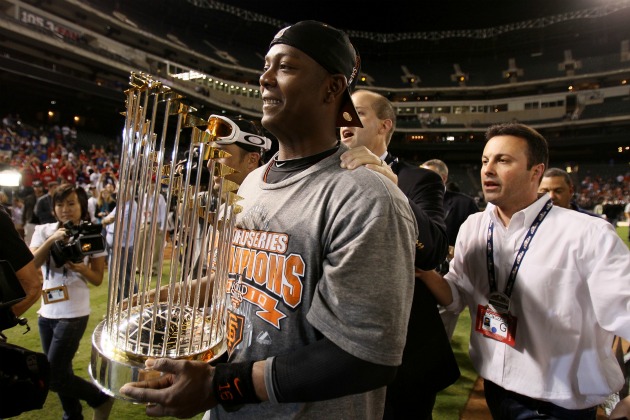 5. 2010: Giants over Rangers in 5
MVP: Edgar Renteria
What its' remembered for: After missing most of the season with several injuries, Edgar Renteria hit a three-run home run off of Cliff Lee in the seventh inning of Game 5 that was enough for a 3-1 victory, clinching the Giants title. Renteria joined Yogi Berra, Joe DiMaggio and Lou Gehrig to have two series-winning hits.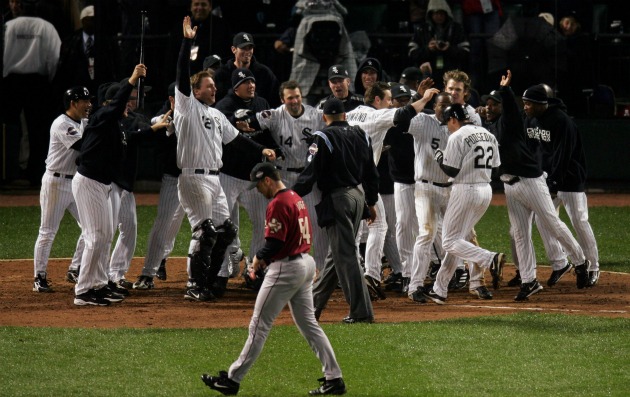 6. 2005: White Sox over Astros in 4
MVP: Jermaine Dye
What it's remembered for: Like the other Sox, the White version had a long drought of its own broken, but White Sox fans never really whined as much as Red Sox fans so it was less celebrated. Although the White Sox swept the series, no game was decided by more than two runs, with Scott Podsednik hitting a walk-off homer in Game 2 off of Brad Lidge after the Astros rallied to tied the game with two runs in the ninth. Podsednik hadn't hit a home run in the entire 2005 regular season, but it was his second of the postseason.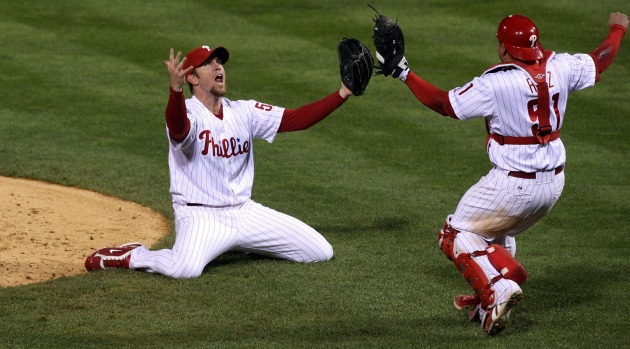 7: 2008: Phillies over Rays in 5
MVP: Cole Hamels
What it's remembered for: Rain. Game 3 was delayed for an hour and a half, while Game 5 was started on Oct. 27 and suspended in the top of the sixth inning with the score tied at 2. The game was completed two days later with the Phillies winning 4-3. It was the first suspended game in World Series history.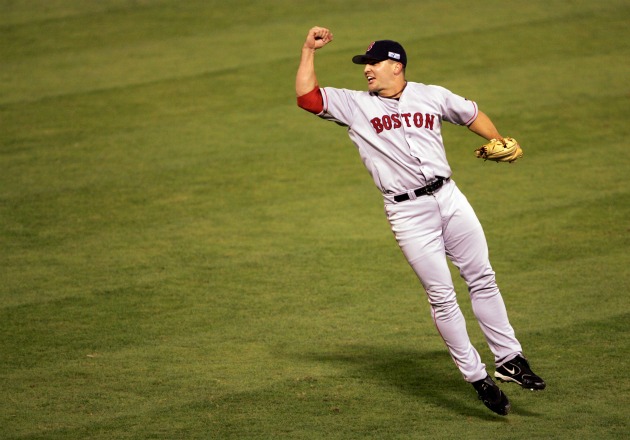 8. 2004: Red Sox over Cardinals in 4
MVP: Manny Ramirez
What it's remembered for: Because the Red Sox broke the Curse of the Bambino, the series itself is remembered more fondly than the play on the field merited. Despite Boston's complete domination of the series and an early 3-0 lead in Game 4 (to go along with the 3-0 series lead at the time), for many Red Sox fans, it wasn't until Keith Foulke flipped the ball to Doug Mientkiewicz for the final out did they believe the Red Sox would actually win the series. (There's also the whole Curt Schilling bloody sock episode that would be in this spot if it weren't for that whole curse thing).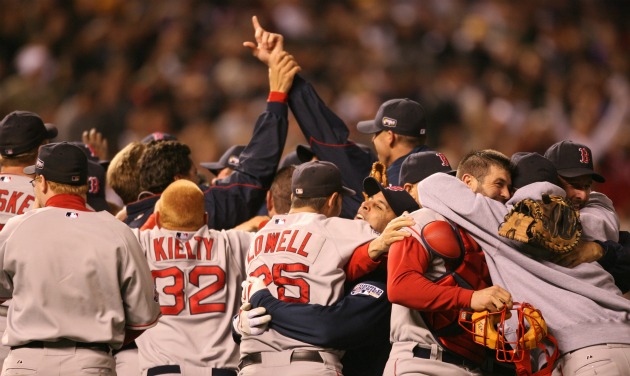 9. 2007: Red Sox over Rockies in 4
MVP: Mike Lowell
What it's remembered for: Dustin Pedroia led off Game 1 in Boston with a home run and the series kind of followed suit from there. Boston trailed only once in the entire series -- falling behind 1-0 in the first of Game 2, only to win that game 2-1.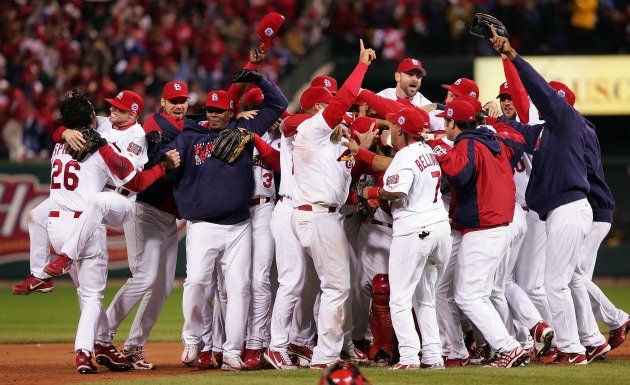 10. 2006: Cardinals over Tigers in 5
MVP: David Eckstein
What it's remembered for: How bad was this series on the field? Well, there were 12 errors committed in the five games and three of the five games featured errors by both teams. There was a game pushed back by rain and the most memorable moment was probably a guy washing his hands. In Game 2, the drama (aided by Tim McCarver's yapping) was the mystery of a mixture of dirt and rosin on Kenny Rogers' hand in the first inning. He went on to pitch eight shutout innings and allowed just two hits in the Tigers' only victory of the series.
For more baseball news, rumors and analysis, follow @eyeonbaseball on Twitter or subscribe to the RSS feed.