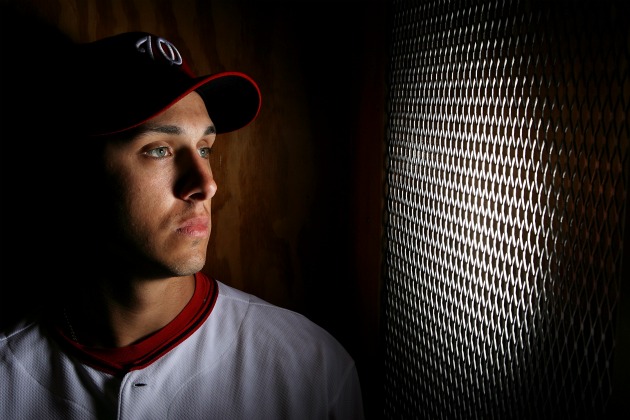 By Evan Brunell
These days are certainly different for Ryan Wagner, a 2003 first-round pick of the Reds. He debuted that same year at age 21 and looked as if he would deliver on his promise, but injuries and attrition caused him to struggle over the next two years before being dealt to the Nationals in a contentious deal, with Cincinnati later alleging that the Nationals then-GM Jim Bowden wasn't up-front about the injury issues of reliever Gary Majewski.
With the Nats, Wagner was nothing more than a fungible reliever who regressed in effectiveness before undergoing surgery for a torn labrum in 2007. After two years of trying to rehab the injury, Wagner called it quits in 2009. And now, he's a 28-year-old manager, accepting a job with the Victoria Generals in the Texas Collegiate League, a college summer league.
"The college level is where I want to be," Wagner said. "I love coaching the younger boys, but it's definitely a slowdown from the big leagues.
"With the little kids, it's fun teaching the fundamentals and watching them grow. But a lot of these kids are D-I players and when you tell them something they are able to make the adjustments." (Victoria Advocate)
DEVASTATION IN JAPAN: While Americans were sleeping soundly, Japan was the victim of the worst earthquake since 1900, measuring 8.9 on the Richter scale. A tsunami developed that will hit Hawaii, but isn't expected to devastate the island. Other places, such as Thailand, may not be so lucky. In the midst of all this, Japan has canceled all professional baseball games for Saturday along with other major sporting events. (Yakyubaya.com)
CONCERN FOR GRANDMOTHER: There are plenty of Japanese ballplayers and media members stateside for spring training that have left many scrambling to contact friends and family. One such player is Daisuke Matsuzaka, who has heard from his family and friends but has not been able to reach his grandmother. (Boston Herald)
Yankees LEGEND OK: Yogi Berra suffered a fall at Yankees spring training camp Thursday and was taken to the hospital as a precaution. The Hall of Famer is doing just fine and may even return to camp Friday. (New York Daily News)
STUPID IS AS STUPID DOES: Stephen Strasburg has had a Twitter account for several months but only recently has been tweeting with any frequency. One such tweet yesterday: "Keeping it freaking stupid with coach today!" Who knows what that means, but good to know. (Washington Post)
WILD THING: "Adaptable, even-tempered and not easily rattled" were words used to describe Charlie Sheen. Huh. Interesting. But these words are from the Sheen of three decades ago when he was a relief pitcher for Santa Monica High School. Sheen served as a "very efficient" bullpen ace, coach Jose Lopez recalls. (Los Angeles Times)
MORE Mets MESS: Everyone knows about the Wilpons' struggle to hang onto the Mets in light of the Bernie Madoff scandal, but there's an entirely different scandal being dealt with at this point. Back in November, the Mets fired team employee Charlie Samuels, who admitted to gambling on baseball and also provided mob associates with insider tips. He is also under investigation for stealing memorabilia from the Mets clubhouse and then selling them. The New York Police Department's Organized Crime and Control Bureau was at Mets camp Thursday to interview players and employees about Samuels in the hope of ferreting out more information for the case. Baseball investigators were also on hand to see if illegal gambling is being conducted by other employees and players. Investigators spoke to people with close ties to Samuels, such as Mike Piazza and Francisco Rodriguez. (New York Daily News)
AN ENTIRELY DIFFERENT GAME: Rockies manager Jim Tracy finally got Denver Nuggets basketball coach George Karl in town, with Karl assisting Tracy in managing Thursday's game. While Karl's the basketball guru, he may have had a hand in Todd Helton cracking a double, speaking to the first baseman just before the at-bat. A bit of a stretch, but whatever, it's spring training. (Denver Post)
QUESTIONING COLE: MLB Trade Rumors has a bunch of questions for college pitcher Gerrit Cole, who should be a top-five pick in the upcoming amateur draft. Cole was plucked out of high school by the Yankees, but opted to go to UCLA and doesn't regret the decision. Also in the interview: Cole's relaying of a Charlie Sheen story. (MLB Trade Rumors)
OZZIE'S IMPRESSED: Dayan Viciedo has impressed manager Ozzie Guillen the most at spring training. The Cuban defector is currently converting to right field from third base as he looks unable to field the position and first base is locked up. Viciedo was hitting .476 in spring training games but a fractured right thumb will sideline him about a month and guarantees a ticket to Triple-A, which was likely coming regardless. If he can show some semblance of plate discipline, he could be a nice bat for years to come. (Chicago Sun-Times)
ON THE WAY BACK: Erik Bedard was one of the better left-handed starters in the game but missed all of 2010 and had just 30 games started combined between 2009-10. Clearly, Seattle's trade for Bedard hasn't quite worked out, but the lefty had a strong start Thursday and felt he was approaching how he felt during his 2006-07 run. That's all well and good, but the 31-year-old needs to actually pitch in a major league game multiple times before anyone gets excited. (MLB.com)
BIG SWEAT: Dennys Reyes makes himself known to Red Sox fans, as the portly left-hander appears all but a lock to snag a spot in the Red Sox bullpen as the requisite lefty. Reyes has quite an interesting story of how he dislocated his right shoulder, which forced him to begin throwing left-handed. He didn't get the shoulder treated, which is why his right shoulder has a six-inch hunch over the left and still causes him pain on certain fielding plays. (Boston Herald)
For more baseball news, rumors and analysis, follow @cbssportsmlb on Twitter or subscribe to the RSS feed.