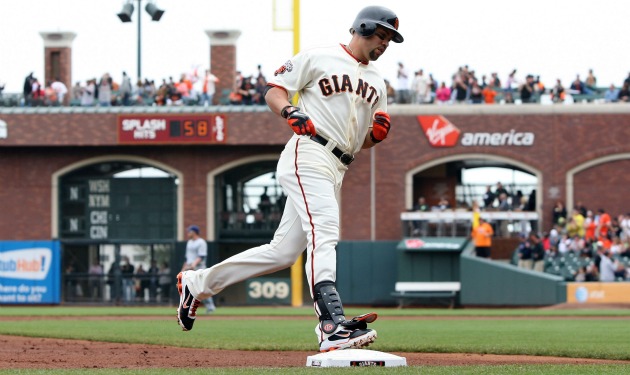 By Evan Brunell

Wanted: more offense --
Carlos Beltran
has enjoyed his time in San Francisco, but it could only last a few months.
The free-agent outfielder told the
San Jose Mercury News
that playing for the
Giants
would be fantastic with its pitching staff, plus the returns of
Buster Posey
and
Freddy Sanchez
should boost the offense next season. But that's not enough.
"I believe there should be a little bit more than that," he said, referring to the offense.
But where should the team upgrade? Catcher, second base and third are spoken for.
Aubrey Huff
will be in his final season while
Brandon Belt
is ready to play full-time, so split first base and left field between the two players. If Beltran comes back, that's right field sewed up. That leaves shortstop, with no real internal candidate, and center field.
Of course,
Jose Reyes
has gotten a lo of attention as the marquee free agent, but the Giants will have to pay a pretty penny for Reyes' services. In center, the team might as well keep
Andres Torres
if its next-best option is
Coco Crisp
, although
Grady Sizemore
could be attractive if the
Indians
decline their club option.
But the Giants have to worry about money, too. They have $80 million committed to just six players next year, one of which won't be playing for the team in Aaron Rowand. To resign Beltran and bring in another top-flight hitter to please Beltran? That's pushing it.
"You want to be in a lineup where you are around players that will make the lineup better, you understand?" Beltran said. "Right now we have missed a leadoff batter here, and that's huge. That's something, to me, they should address that area, before me."

Weak Central
: Jim Leyland has a lot of expletive-filled thoughts as to the AL Central being so weak, the
Tigers
' accomplishments may be hurt. "You're looking for something to take something away from them," Leyland complained
to MLive.com
. "I don't want to talk about that. That's [expletive]. That's total [expletive]. Let me remind you of something. It was three months ago, two months ago, that the [expletive] Cleveland Indians were the talk of baseball. Everybody was saying they were pretty [expletive] good. Now, all of a sudden, because we beat them they're [expletive]? That's not fair. That's unfair."
Moving to right
:
Carlos Gonzalez
will be the team's right fielder next season,
Rockies
manager Jim Tracy says, citing Gonzalez's arm as the reason why. He's already made the move and has 12 assists in just 34 games. (
MLB.com
)
Staying in Japan?
Phenom Yu Darvish is re-thinking whether or not he will come to America for 2012,. His team, Nippon Ham, is eager to post Darvish and reap the profits but Japan's best pitcher is unsure the time is right to make the leap. (
NPB Tracker
)
Humidor time
: The Rockies love everything about their Triple-A franchise...except the fact that it's a launching pad for hitters, robbing pitchers of development time. As a result, a humidor will be installed next season. (
Denver Post
)
The story of Trayvon
: Seattle's newest outfielder,
Trayvon Robinson
, had a tough upbringing with a home in south-central Los Angeles, split between warring gang factions and attending the high school featured in
Boys N The Hood
. It's a feature well worth reading. (
Seattle Times
)
Setback
:
Dodgers
ex-closer
Jonathan Broxton
has suffered a setback in his recovery from an injured elbow. Broxton will become a free-agent and will have to look around for a one-year deal to rehabilitate his value. (
MLB.com
)
One year later
: A year ago, a baseball bat pierced
Tyler Colvin
's chest. What could have been a serious incident has now passed and Colvin is back in the majors -- albeit struggling. (
MLB.com
)
Jays resurgence
: Part of Toronto's resurgence has been the successful adding of young players both inside and outside of the organization. More help is on the way as indicated by the Jays making the minor-league postseason with five of seven teams. But will Toronto make its move in the offseason or wait for more help to arrive? (
Canoe.ca
)
No diamond
: The city of Detroit has nixed an offer from Chevrolet to preserve the diamond at Tiger Stadium, which is mostly demolished these days. Why did the city do that? Because it's trying to keep the space open for significant redevelopment, which the city would jump at to improve its flagging revenues. (
Detroit Free Press
)
Still playing
:
Aaron Cook
won't retire, but the Rockie who receives his final start in Colorado on Wednesday also certainly won't be back. (
Denver Post
)
Morgan or Sandberg?
Reds
announcer Marty Brennaman believes that Morgan was the better second baseman than Sandberg, which the author terms a "controversial" topic. Really? (
Chicago Tribune
)
Still playing
: Amir Garrett, who was picked in the 22nd round of the MLB draft, hopes to play basketball as a freshman this winter after being declared ineligible by the NCAA. Garrett signed a $1 million deal with the Reds and is expect to join the team after college basketball is over. (
Eye on College Basketball
)
For more baseball news, rumors and analysis, follow @EyeonBaseball on Twitter or subscribe to the RSS feed.