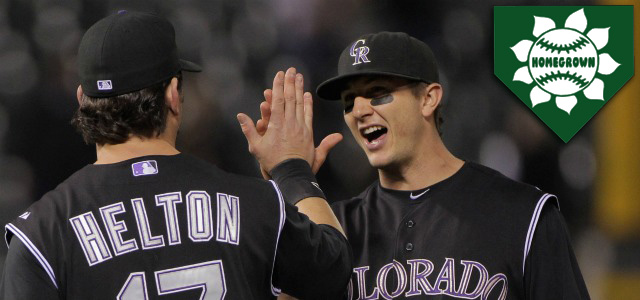 By C. Trent Rosecrans
What if players were only permitted to stay with the team that originally made them a professional? No trades, no Rule-5 Draft, no minor or major league free agency ... once you are a professional baseball player, you stay in that organization. This series shows how all 30 teams would look. We give you: Homegrown teams.
To view the schedule/past entries of this feature, click here.
Building a team in Colorado has been a bit of a conundrum throughout the
Rockies
' brief history -- the offensive numbers will come in the elevation, while pitchers have to be homegrown because free agent pitchers aren't exactly lining up to play in the high altitude.
Lineup
1.
Dexter Fowler
, CF
2.
Seth Smith
, RF
3.
Troy Tulowitzki
, SS
4.
Matt Holliday
, LF
5.
Todd Helton
, 1B
6.
Juan Uribe
, 3B
7.
Chris Iannetta
, C
8.
Clint Barmes
, 2B
Starting Rotation
1.
Ubaldo Jimenez
2.
Jhoulys Chacin
3.
Jake Westbrook
4.
Aaron Cook
5.
Jeff Francis
Bullpen
Closer -
Franklin Morales
Set up -
Luis Ayala
,
Jamey Wright
,
Pedro Strop
,
Edgmer Escalona
,
Rex Brothers
,
Matt Reynolds
Long -
Juan Nicasio
Notable Bench Players
Wilin Rosario
and
Josh Bard
give this team a good stable of catchers, while
Everth Cabrera
,
Chone Figgins
,
Ian Stewart
,
Juan Pierre
and
Ryan Spilborghs
give the team some veratile players in the field, with
Brad Hawpe
perhaps the best bat off the bench.
What's Good?
The lineup's going to score some runs, that's for sure. Especially in Colorado, having a 3-4 of Tulowitzki and Holliday is going to be impressive. Of course, there's not
Carlos Gonzalez
, so it's pretty much even compared to the regular team. The team is strong up the middle defensively, which it will need...
What's Not?
The pitching staff is similar to what we saw in real life in 2011, with Chacin leading the way and Jimenez struggling before being traded. Westbrook helps, but you have to remember he wasn't even on the
Cardinals
' playoff roster for the first two rounds and pitched two innings in the World Series. The bullpen is deep, but not overpowering.
Comparison to real 2011
The wheels fell off the Rockies in 2011, with the team going a disappointing 73-89. The offense on this team is similar, while the pitching (especially the bullpen) is not as good -- that formula adds up to another losing season and probably a 90-loss season.
Next:
Arizona
Diamondbacks
For more baseball news, rumors and analysis, follow @eyeonbaseball on Twitter or subscribe to the RSS feed.