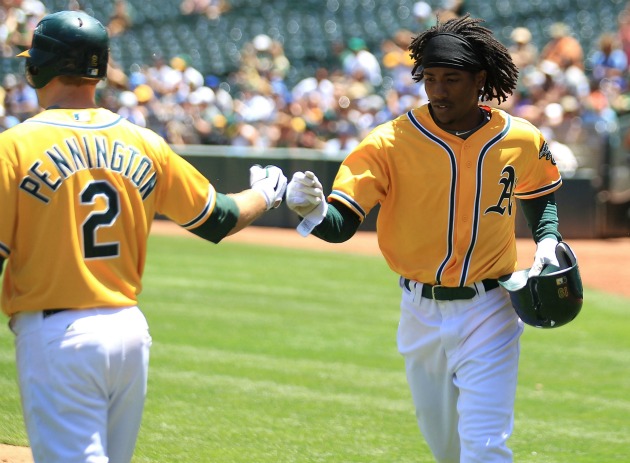 By C. Trent Rosecrans
Jemile Weeks, Athletics -- In his ninth big-league game, the younger brother of the Brewers' second baseman is already making a name for himself. Weeks went 2 for 4 with three RBI in Thursday's 8-4 victory over the Royals, doubling in two runs to start the scoring in the second and also coming around to score in the four-run frame. He added an RBI single in the fifth. He's now hitting .344/.364/.594 since being called up to replace the injured Mark Ellis.
Nick Blackburn, Twins -- The Twins right-hander out-dueled Mark Buehrle by going eight shutout innings, allowing seven hits and one walk, while striking out one. Buehrle allowed just three hits and two walks in seven innings, but did give up the game's only run. Blackburn is 5-0 since the start of May.
Kosuke Fukudome, Cubs -- The Cubs right fielder came into Thursday's game having driven in just six runs all season, so you know where this is going -- he had four on Thursday, including a three-run homer in the seventh off of Daniel Ray Herrera to break the game open for the Cubs. Fukudome had three hits on the day and was a double shy of the cycle.
---
Rickie Weeks, Brewers -- Jamile's older brother was thrown out twice trying to stretch a single into a double. Fukudome gunned down Weeks both times on Thursday, in the fourth inning and the seventh inning. Weeks maybe should have learned his lesson on Wednesday night when he tried to stretch a double into a triple and was gunned down at third.
Fernando Salas, Cardinals -- St. Louis' closer gave up his first homer of the season, a three-run shot to Nationals rookie Danny Espinosa in the 10th, allowing the Nationals to not only sweep the Cardinals, but also move out of last place in the National League Central.
D.J. Carrasco, Mets: Ugh -- a balk-off win for the Braves courtesy the Mets' reliever. Following Lucas Duda's two-out error, which allowed Diory Hernandez to get to third, Carrasco stopped his motion and then restarted it -- a balk that nobody in the park missed, scoring Hernandez and giving the Reds a 9-8 victory in 10 innings. It was the second walk-off balk in Mets history.
For more baseball news, rumors and analysis, follow @cbssportsmlb on Twitter or subscribe to the RSS feed.