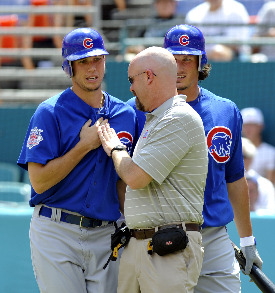 For the last couple of years, the subject of shattered bats has been a topic the media has found interesting, if not anyone else.
Sunday's events in South Florida may change that.
Cubs
rookie
Tyler Colvin
is currently at Jackson Memorial Hospital in Miami with a tube in his chest keeping his lung from collapsing after he was hit by part of
Welington Castillo
's bat. Colvin is being treated for pneumothorax, a puncture of the chest cavity, which allowed air into the chest wall with the potential of a collapsed lung. He will remain hospitalized for two-to-three days and won't play again this season, Cubs manager Mike Quade told reporters.
Castillo told the Chicago Tribune 's Paul Sullivan
he didn't know what was going on at first, but once he realized what happened, he was having trouble keeping it out of his mind.
"I feel really bad about it," Castillo said. "It's wasn't on purpose, but he's my teammate."
Cubs pitcher
Jeff Samardzija
was on deck when Colvin scored.
"I thought he was fine, I thought we were just joking around," Samardzija said. "I saw little something on his shirt and said, 'Hey man, you should probably get inside.'"
Marlins
catcher
Mike Rivera
said it looked like Colvin "was being stabbed."
Pirates
hitting coach Don Long was hit in the face by a broken bat two years ago. After Sunday's events,
he told the Pittsburgh Tribune-Review 's Rob Biertempfel
, "I got hit in the face. [Colvin] got hit in the chest. I mean, what's it going to take?"
Long was hit by
Nate McLouth
's shattered bat made of maple.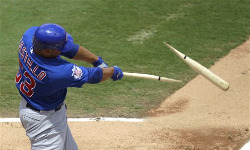 Quade even said he was surprised it hadn't happened sooner, noting maple bats.
The
Associated Press' story
notes Castillo was using a maple bat.
The conventional wisdom is that maple bats tend to shatter more when they break than bats made of ash. Even if the maple bats don't break as often, the theory goes, when they do break, they're more dangerous.
MLB reduced the number of maple bat suppliers authorized to have ether goods used in the big leagues before the 2009 season and made some changes in the minor leagues before this season. More changes could be on the way if Castillo was indeed using a maple bat.
UPDATE:
Castillo
told MLB.com
that he's used maple bats his "whole life."
At least one teammate,
Jeff Baker
, said he doesn't like maple bats because of the way they can shatter.
"That's the danger of a maple bat," Baker said. "I saw an umpire get slashed on the neck in Kansas City. It's just not worth it to me to use that kind of bat. I don't want that on my conscience."
Umpire Brian O'Nora suffered a concussion and a cut on his forehead after part of Miguel Oliva's broken bat hit him in the head in a game in 2008.
-- C. Trent Rosecrans
For more baseball news, rumors and analysis, follow @cbssportsmlb on Twitter or subscribe to the RSS feed .