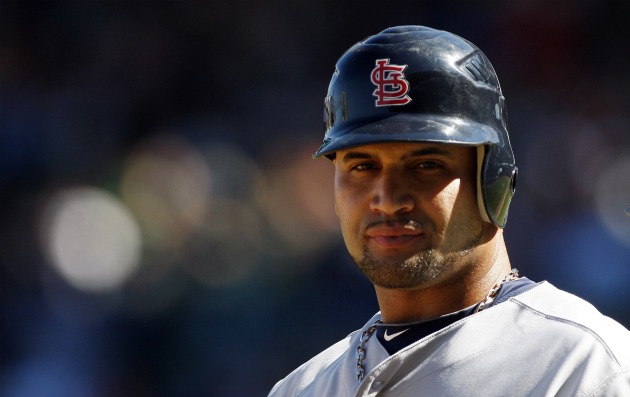 MONEY MAKES THE WORLD GO 'ROUND: White Sox GM Kenny Williams is defending his comments that a $30-million man would be bad for the game.
"All I'm interested in is the game," Williams told MLB.com. "We're just caretakers of this game, all of us: you guys, me, the players. We're caretakers of this game to the next generation. And then the next generation after that."
With Albert Pujols poised to enter free agency after the season, possibly commanding up to $30 million annually, Williams had ruled out the possibility of the White Sox going after the star, noting that he felt it was more appropriate to spread out dollars than to tie it up in one person. There's some sentiment for that given tying up massive dollars in one person is risky. All it takes is one injury to derail the season. Take the news that Adam Wainwright may need Tommy John surgery, for example. That's a massive blow to the Cardinals, who essentially rely on Chris Carpenter, Wainwright, Pujols and Matt Holliday to drive the team.
However, the flip side is the value Pujols gives in that one spot, freeing up chances to get league-average or better players at other spots. These type of players are far easier to get than the superstar. There's no right answer here, but it's obvious which side of the fence Williams falls on.
Williams used the opportunity to speak about parity in the game and how high-salaried superstars are essentially limited to a small pool of teams, which he is not a fan of.
"It's important that the people and the [small-market] cities ... and many more have just as much chance to hope and dream about their team winning a World Series as anybody else," Williams added. "Right now, that's not happening." (MLB.com)
I'M A CREEP, I'M A WEIRDO: Carl Crawford was "creeped out" when he found out that as part of due diligence, the Red Sox had a scout following him off the field. Obviously, it didn't stop Crawford from signing with Boston once GM Theo Epstein told him, but he admitted he was not comfortable with the idea of someone following him, although it's standard practice for Boston to monitor every major free-agent's off-the-field activities. Hey, can't blame Crawford. To learn someone's been tracking your movements over the last few months away from the ballpark is creepy. (ESPN Boston)
I'M TIRED AND I'M HUNGRY AND MY TAIL'S FROZE: Mike Stanton can sure pack away the food as roommate Gaby Sanchez says. The two, who are rooming together in spring training, recently went grocery shopping and Sanchez experienced sticker shock at the total price: over $300. "When we finished, I said, 'You got to be kidding me that we spent that much money," Sanchez said. "[The shopping cart] was completely full. We had to take three trips to get [the groceries] from the car into the house, and it was me and him carrying stuff too." Sanchez also adds he is likely to be the chef, but is willing to let Stanton take a crack at cooking. But Stanton only gets "one chance" to make good food. (Miami Herald)
THE NEXT STEVE IRWIN?: J.D. Drew isn't exactly the type of guy to make one say "That dude would totally wrestle an alligator bare-handed." Except that wouldn't be too far off the mark. Drew recounted a story Tuesday night in which he was fishing with his son and hooked a gator with a fishing lure. Drew was readying to jump on the alligator and take care of business (with a knife in tow), but the lure snapped just in the nick of time for the alligator. So next time you call J.D. Drew "Nancy Drew," you may want to rethink that. (Boston Globe)
I SPY TOMMY LASORDA SWEARING: When Google Books indexed Spy Magazine, it opened up a treasure trove of baseball facts. Such as an expletive-filled rant Tommy Lasorda had with Doug Rau, the starting pitcher in Game 4 of the 1977 World Series. You'll have to head on over to read the conversation, but it's fascinating -- but not for those who don't like strong language. Also in the article is far too much information one could ever want to know about George Brett's hemorrhoids and sex life. (Spy Magazine, Google Books)
WAINO'S NOT THE ONLY ONE: Vincente Padilla's no Adam Wainwright, but the Dodgers are hurting with the news Padilla needs surgery to release a nerve that is trapped by a muscle in his forearm. Sounds painful. There's no timetable for the No. 6 starter/reliever's return. (Los Angeles Times)
GRIFFEY, JR. ATTEMPTED SUICIDE: OK, this article is from 1992 so it's not exactly timely, but I've never heard of this before. Apparently, at age 17, Ken Griffey, Jr. attempted suicide by taking approximately 277 aspirin. "It seemed like everyone was yelling at me in baseball, then I came home and everyone was yelling at me there," Griffey said way back when. "I got depressed. I got angry. I didn't want to live." Obviously, the attempt did not work and baseball is far better off for it. (New York Times)
GUILLEN READYING FOR RETIREMENT: If Jose Guillen doesn't get a contract offer within the next week, he will retire. Hard to imagine there's much demand for a first-baseman/outfielder/DH with a bad attitude who struggled through injuries before being busted amid HGH allegations. (MLB Trade Rumors translation of ESPNDeportes)
HATERS GONNA HATE: When Astros GM Ed Wade signed reliever Brandon Lyon last season to a three-year, $15 million deal, he was exoriciated for giving so much money to a middling middle reliever. But now that the relief market has exploded, Wade's looking pretty good, as this article details. But has anyone considered that Lyon was the reason the relief market has exploded and become wildly overpaid? (Houston Chronicle)
-- Evan Brunell

For more baseball news, rumors and analysis, follow @cbssportsmlb on Twitter or subscribe to the RSS feed.