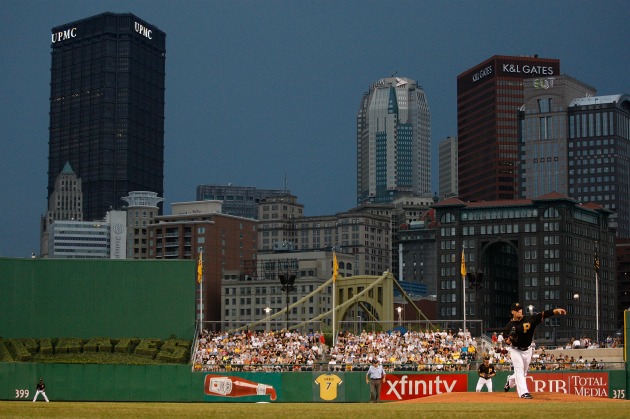 By C. Trent Rosecrans
Carlos Beltran refused a deal that would send him to the Pirates, but just the fact that I can write that is pretty darn cool. Yep, the Pittsburgh Pirates were seeking a rental player at the deadline from the New York Mets.
Dejan Kovacevic of the Pittsburgh Tribune-Review reported the Pirates had made an "aggressive push" to get Beltran and were willing to pick up the $6.5 million left on his contract for this season.
Beltran's now with the defending champs and that's probably the best fit for him, which is the beauty of having a no-trade clause. Instead of finishing the season in Pittsburgh, he'll be in San Francisco, good for Beltran.
But it's also a sign of where the Pirates are and how they're planning on trying to win now. Last year we heard about the Pirates hoarding their luxury tax disbursement, this year we're hearing about them trying to improve.
Is it a new world order? Maybe not, but it is an indication that the Pirates' ownership is behind its team and serious about a winner. It also may end up helping the Pirates, who don't give up young talent and can contend for more years with a player that could develop into something special. Even if Beltran had accepted a trade to Pittsburgh, he wouldn't have stayed.
The Pirates have shown their commitment and that's something that was needed after last year's fiasco.
What to expect in Toronto: The folks at the Hardball Times take a look at what to expect from Colby Rasmus in Toronto. The move from Busch Stadium to the Rogers Center should help his power numbers a little bit, but not as much as it would if he were a right-hander. Meanwhile Rasmus' new manager said he'll play every day, replacing Rajai Davis. [The Globe and Mail]
La Liar?: Rasmus' father, Tony, says Cardinals manager Tony La Russa is incorrect in his assertion that his son was listening to him instead of his coaches. Rasmus said La Russa is "made that stuff up" and bullied general manager John Mozeliak into trading Rasmus for pitching. "Tony would like to have 25 pitchers," Tony Rasmus told the Toronto Sun, "like he thinks he has to put his stamp on every ball game. They had nothing else to trade. I think everyone is better off now." In a TV interview, Colby Rasmus was asked about his relationship with La Russa after the trade and the younger Rasmus said, "I hope he's happy." Tony Rasmus said La Rusa blames Rasmus for leading to Walt Jocketty leaving the Cardinals.
Winner, loser: Jeff Passan of Yahoo! says the two big deals on Wednesday showed the way to make deadline deals and the way not to make deadline deals. Let's just say the defending champs are doing something right, while another team panicked.
Oswalt strong in rehab start: Phillies right-hander Roy Oswalt allowed just one hit in four innings for Triple-A Lehigh Valley on Wednesday. Oswalt said after the start that he would probably need at least one, if not two more rehab starts before he's ready to re-join the Phillies rotation. [Delaware County Times]
Washington wants 'fire': Rangers closer Neftali Feliz can bring the heat, but his manager Ron Washington wants to see more "fire" from him on the mound. Washington said he doesn't see the urgency from his closer. Feliz has blown five saves this season after blowing just three last year. His strikeout rate is also down from a year ago. [MLB.com]
Wily Mo's back: The Mariners -- a team desperate for offense -- has signed outfielder/DH Wily Mo Pena to a minor-league contract on Wednesday. Pena hit five homers in 17 games for the Diamondbacks. Pena is expected to start at Triple-A Tacoma. [MLB.com]
Left is right: It's never a good thing for a pitcher to hear he'll have to undergo surgery to repair a loose capsule and torn labrum in his shoulder, but for Padres' right-hander Dustin Mosley, at least the surgery he'll undergo this offseason will be in his left shoulder. Mosley said he's hurt the shoulder twice this season and one more time earlier in his career, all while batting. Moseley may have to swing one-handed, bat left-handed or just bunt a whole lot more to keep his shoulder from popping out of joint when he swings. [North County Times]
Replay resistance: Dodgers manager Don Mattingly saw the play in Atlanta Tuesday night, but he's still not in favor of expanding replay. Mattingly's two issues -- the time and the human element. My response would be the time could be helped with technology and a dedicated umpire off the field for replay and the human factor isn't as important as the correct call factor. [MLB.com]
Papi's milestone: David Ortiz's grand slam on Wednesday gave him 1,000 career RBI with the Red Sox, just the sixth player to achieve that feat in Boston. He joins Carl Yastrzemski, Ted Williams, Jim Rice, Dwight Evans and Bobby Doerr -- not bad company. [Boston Herald]
Stability behind the plate helps Rangers: Having the same catchers all season -- Yorvit Torrealba and Mike Napoli -- has helped Rangers pitchers. Torrealba has started 71 games behind the plate this season. [Fort Worth Star-Telegram]
For more baseball news, rumors and analysis, follow @cbssportsmlb on Twitter or subscribe to the RSS feed.