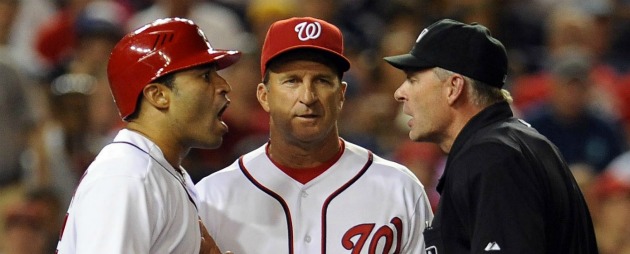 By C. Trent Rosecrans
Nationals utility man Jerry Hairston Jr. is appealing his one-game suspension levied on Sunday for his argument with an umpire on Friday.
Hairston is in the Nationals' lineup on Sunday against the Padres, batting seventh and playing third base.
"I had no clue in my wildest dreams I would get suspended," Hairston told the Washington Post. "I was definitely shocked. Never have I pushed or shoved an umpire, and I never will. I never cussed at him. I felt I pleaded my case, and I felt that's all I did. Sometimes, I'm an emotional guy. I can be very high strung. I can be a little more, I guess, showy at times. I never pushed or shoved him. The video speaks loud and clear."
Friday, Hairston argued with home plate umpire Ed Hickox that Padres starter Clayton Richard quick-pitched him in the seventh inning. Hairston had called time out, Hickox declined while Richard was throwing the pitch. Hariston swung at the pitch and flied out to center. Instead of running to first, Hairston argued with Hickox.
On Friday, Hairston explained his side to MLB.com's Bill Ladson:
"I played with Clayton Richard and he quick pitches -- big time," Hairston said. "He held the ball and I stepped out. As soon as I stepped back in the box, he was coming. You just can't do that. You have to let the hitter get set.

"Basically, I asked for help and when I asked for help, I got thrown out. I never cussed at the umpire or anything. I didn't feel I needed to get thrown out there."
And now he doesn't feel the need to be suspended.

"This is not the YMCA," Hairston told the Post. "This is Major League Baseball. You're going to have your arguments. You're going to have your disagreements. I felt like I was in the right. I didn't push him or shove him in any way, and the video clearly shows that."
MLB's Joe Garagiola Jr. cited Hairston for "aggressive actions, which included making contact" with an umpire. Video showed Hairston inadvertently brushed umpire Brian O'Nora when pointing toward home plate.
For more baseball news, rumors and analysis, follow @cbssportsmlb on Twitter or subscribe to the RSS feed.