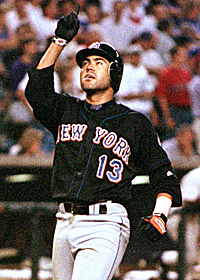 By Matt Snyder
The New York
Mets
announced Wednesday that, in honor of the franchise's 50th anniversary, they will have five different bobblehead giveaways this summer at Citi Field. Each bobblehead will be of a Mets legend, one from each decade of the franchise's existence. The first 25,000 fans for each game will get their bobblehead.
Tom Seaver will represent the '60s, with the giveaway being on April 22. Rusty Staub represents the '70s on May 26. Keith Hernandez is the '80s guy on June 17 while Mike Piazza is the representative for the 2000s on August 25.
You'll note I left out the 1990s. It's Edgardo Alfonzo (July 21). I was left scratching my head a bit about this. Yes, Alfonzo was a good player -- in fact, he was an All-Star in 2000 and had great years in 1999 and 2002. But he's the Mets' "legend" for the 1990s whole decade? Really?
Alfonzo played five seasons for the Mets in the '90s, putting together a .290/.356/.429 line, good for a 106 OPS-plus. He hit 62 homers (an average of 15 per 162 games) while averaging 73 runs and 68 RBI per season. He was versatile defensively. All-around, a good player, but certainly not a legend.
Now, please don't misconstrue this as a huge complaint. I don't care who the Mets give away as a bobblehead and I'm not a Mets fan. I'm just wondering if Mets fans think of the '90s and the first player that comes to mind is Alfonzo. I combed through a few of the rosters, because I don't think I should make any kind of statement without having an alternative option, and I came up with a pretty good name: John Franco. He was the closer for nearly the entire decade. He racked up 276 saves in his Mets' career, 268 of which came in the 90s, when he had a 2.81 ERA.
Anyway, it's not a big deal, but I'm curious, Mets fans: Would you rather have a Franco or Alfonzo bobblehead?
For more baseball news, rumors and analysis, follow @EyeOnBaseball on Twitter, subscribe to the RSS feed and "like" us on Facebook.