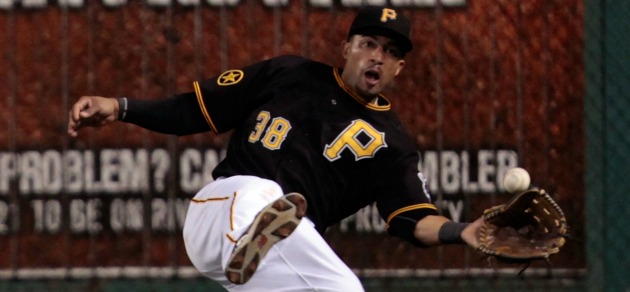 By Evan Brunell
The
Pirates
'
Xavier Paul
was involved in a strange identity fraud case involving the Australian Baseball League,
MLB.com reports
.
Minor-leaguer
Breland Brown
, who played in the
Diamondbacks
' rookie league at age 26 for 11 games in 2011, was the alleged perpetrator of the fraud. Brown reportedly posed as an agent in a scheme a source said was "like a movie."
According to the source, Brown was said to have proposed to the ABL a deal in which Paul would agree to play in Australia this offseason provided Brown himself was also invited to play. To no surprise, the ABL accepted the agreement. To have someone of Paul's stature play baseball in Australia would be very enticing.
Paul isn't exactly a great player, but he is a current major leaguer, which would help to promote the ABL's quality of play. The 26-year-old came up through the
Dodgers
system and received some playing time in each of the last three seasons for Los Angeles before Pittsburgh claimed him off waivers. Paul went on to hit .254/.293/.349 for the Pirates in 251 plate appearances and has a strong shot to be a backup outfielder for Pittsburgh next season.
The ABL assigned Paul to the Brisbane Bandits and Brown to the Sydney Blue Sox. The fraud was discovered when Brisbane reached out to Paul to ask why he had not yet arrived in time for the season, which began earlier this month.
"It was all a hoax by this player (Brown) trying to get over to the ABL," the source said.
When the ABL figured out what happened, Brown was removed from the Blue Sox roster along with Paul. The situation has since come under the purview of MLB's Department of Investigations, which will look into the situation. The ABL contends that it followed protocol in recruiting international players, including contacting the Pirates to get permission for Paul's participation. The Pirates granted such permission, unaware of the fraud. Paul only got tipped off to a possible issue when he read online reports of his participation in the ABL before the fraud came to light.
"[We] are pleased to say that despite the initial misinformation, the fraudulent activity was identified in the regular course of events," said Ben Foster, general manager of the ABL. "We are currently awaiting the outcome of the internal MLB investigation and have contacted all relevant parties to alert them of the situation."
It is not known whether Brown or Paul know each other, but they have been in each other's proximity for some time. Brown was born less than an hour away from Paul's hometown of Slidell, La. and were born less than three months apart. Brown, born in Marrero, La., attended community college and played three seasons of independent baseball before signing a deal with the Yankees in October 2010 that never came to fruition. He was then picked up by Arizona this summer, later released in August.
"I am not sure about legal action as of yet, but we certainly will consider all of Xavier's rights and remedies and also will consider enforcing those rights vigorously once we have all the facts," Joe Longo, president of the agency representing Paul, said. "Xavier never spoke to the ABL or ever considered playing down there this winter."
For more baseball news, rumors and analysis, follow @EyeonBaseball on Twitter or subscribe to the RSS feed.