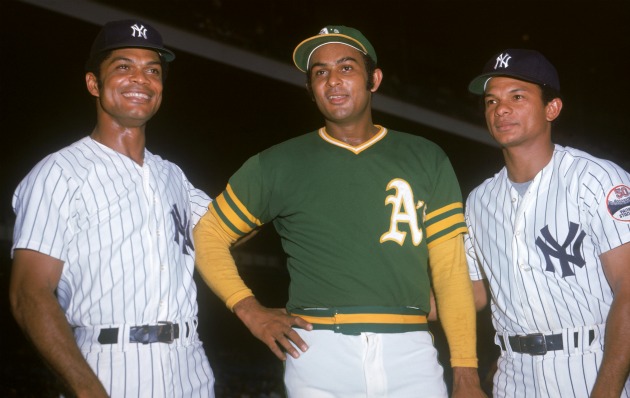 By C. Trent Rosecrans
Sad news from the Dominican Republic today, as Matty Alou passed away at 72,
according to Dominican Today
.
Alou, 72, was the middle of the three Alou brothers and played for the
Giants
,
Pirates
,
Cardinals
,
Athletics
,
Padres
and
Yankees
in his big-league career that spanned 15 seasons. Alou hit .307/.345/.381 with 1,777 hits in his career and won a batting title with a .342 average for the Pirates in 1966. He was also a two-time All-Star, making the National League team in 1968 and 1969.
Alou is best known as part of the famous baseball family. In 1963, all three Alou brothers -- Matty, Felipe and Jesus -- took the field in the same outfield and combined for 5,094 career hits, the best mark for three baseball brothers. The year Alou won the batting title, his older brother, Felipe, finished second.
There was no announced cause of death.
Best wishes to the Alou family and the baseball community in the Dominican Republic. The Giants have issued the following statement:
The Giants were deeply saddened to learn about the passing of former Giants outfielder Matty Alou. Matty, who was a formidable player during his career, was a lifetime .307 hitter who collected 1,777 hits over 15 seasons, six with the Giants from 1960-65. He was a two-time All-Star and won the 1966 National League batting title with a .342 average while playing for the Pittsburgh Pirates. Although he played for six different teams, Matty remained a part of the Giants family as a long time employee and will be forever linked with his brothers – Felipe and Jesus – as the first all-brother Major League outfield.

Our thoughts and prayers are with the entire Alou Family during this difficult time.
In the picture above, Matty Alou is on the right, with Felipe on the left and Jesus in the center.
For more baseball news, rumors and analysis, follow @eyeonbaseball on Twitter or subscribe to the RSS feed.