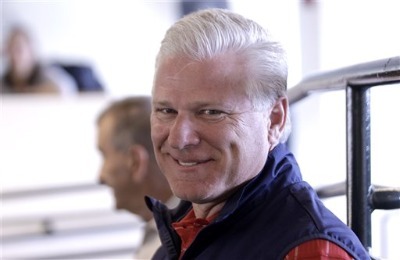 Frank Wren has signed a two-year extension to remain GM of the Braves, as the team revealed Monday.
Wren has been the GM since October 2007 after an eight-year apprenticeship under legend John Schuerholz, who made the announcement in his capacity as Braves president.
"Frank has done an excellent job leading our baseball operations the last three years, culminating with a return trip to the playoffs last season," Schuerholz said via MLB.com. "He and his staff have worked extremely hard in strengthening our major league club and our minor league system. Frank handled the difficult and important task of selecting Fredi Gonzalez to manage the Braves following Bobby Cox's retirement at the conclusion of the 2010 season."
Wren has been impressive in his time as GM after a failed one-year stint in Baltimore in 1999, after the O's inked Albert Belle to a then-record contract only to stumble to a 78-84 record. Wren was fired in favor of Syd Thrift -- who only made the team worse -- after coming over from the Marlins, where he spent seven years as assistant GM under then-GM Dave Dombrowski (now GM of the Tigers).
In Wren's first year in the job, he had a tough job to do: the Braves had only recently completed their 14th straight season of finishing in first place before back-to-back third-place finishes. The 2008 team fell to fourth place with a 72-90 record after the club paid out of its nose to acquire Mark Teixeira. Gregor Blanco and Jeff Francoeuer were disappointments and the rotation simply couldn't match up to the days of yore.
But Wren went to work on turning the team around and vaulted the club up to third in 2009 and then saw the Braves win the wild-card spot last season. After an offseason trade for Dan Uggla, Wren has the Braves positioned as one of the Wild Card favorites and Atlanta should provide the Phillies with stiff competition to finish first in the division.
-- Evan Brunell
For more baseball news, rumors and analysis, follow @cbssportsmlb on Twitter or subscribe to the RSS feed.