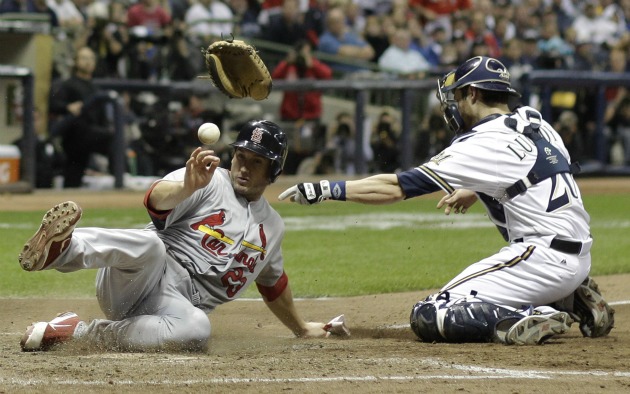 By C. Trent Rosecrans
MILWAUKEE -- The Cardinals won their 18th National League pennant on the heels of a 12-6 pounding of the Brewers in Game 6 of the NLCS.
Hero: St. Louis third baseman David Freese wasn't exactly a household name coming into the NLCS, but he certainly made his mark in this series. Sunday he was 3-for-4 with a homer, three RBI and three runs scored. He batted .545/.600/1.091 for the series. His three-run homer in the first set the tone for the Cardinals.
Goat: There are plenty of goats to go around in Milwaukee after Game 6, but the goat that started it all was Shaun Marcum, the Brewers starter who allowed four runs and was lifted after facing eight Cardinals in the first inning. Marcum, the first piece of Milwaukee's pitching makeover last offseason, made three starts in the postseason, allowing 16 earned runs and 17 hits in just 9 2/3 innings while recording an 0-3 record.
Turning point: Just when the Brewers gathered some momentum, scoring three runs in the second to pull within a run, Albert Pujols answered with a long homer to left off of Chris Narveson. It was the start of a four-run inning and Milwaukee would hardly challenge again.
It was over when … First base umpire Gary Darling called a sliding Ryan Braun out at first base for the first out of the fifth inning. Carlos Gomez scored on the play, making it 11-6, but the Brewers' shot at a big inning was dashed when Prince Fielder grounded out and Rickie Weeks struck out to end the inning. If Braun is correctly called safe, maybe things change there. But he wasn't, and what was already assumed to be over really was.
Next: The Cardinals will be searching or their 11th World Series title, taking yet another "happy flight" to St. Louis to prepare for the 2011 World Series against the Texas Rangers. Game 1 is Wednesday in St. Louis.
For more baseball news, rumors and analysis, follow @cbssportsmlb on Twitter or subscribe to the RSS feed.