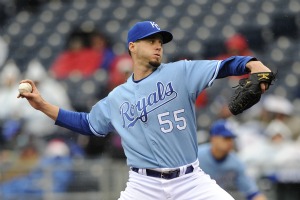 The
Royals
have announced that pitcher
Gil Meche
is retiring with a year and $12 million left on his club-record five-year, $55 million contract.
Meche, 32, was limited to nine starts in 2010 due to shoulder problems. He decided for forgo surgery on the shoulder, not wanting to be out for the 2011 season. He
said
in August his plan was to rehab as well as he could and return in the bullpen.
He's expected to release a statement soon, but if Meche is retiring because he doesn't want to take money he's not going to earn next season, he is to be commended. There aren't a lot of athletes who would do that.
UPDATE:
Here is the statement from Meche:
"After a lot of thinking and prioritizing of issues in my life I have decided to retire from baseball. As a competitor my entire life this is the hardest decision that I've ever faced, but it's not fair to me, my family or the Kansas City Royals that I attempt to pitch anymore. I came into this game as a starting pitcher and unfortunately my health, more accurately, my shoulder, has deteriorated to the point where surgery would be the only option and at this stage of my life I would prefer to call it a career rather than to attempt to pitch in relief for the final year of my contract. I can't thank the Kansas City Royals and their fans enough for my four seasons there and if I have any regret, it's that we weren't able to accomplish on the field what the goal was when I signed there."
UPDATE:
Well, maybe we need to hold off on declaring Meche a national hero. Danny Knobler of CBSSports.com is hearing from sources in Kansas City that Meche's contract might stipulate that the Royals have to pay Meche anyway. In that case the team would probably be able to recoup at least some of that through insurance. We'll update when we get more details.
-- David Andriesen
UPDATE: FOX Sports' Jon-Paul Morosi reports that multiple sources have told him Meche will forfeit the $12 million due him. You don't hear much about players passing up dollars too often -- especially guaranteed -- so one has to really give props here. Meche knew he couldn't perform, so instead of heading to spring training, landing on the DL and collecting $12 million, he opted to call it quits.
-- Evan Brunell

For more baseball news, rumors and analysis, follow @cbssportsmlb on Twitter or subscribe to the RSS feed.