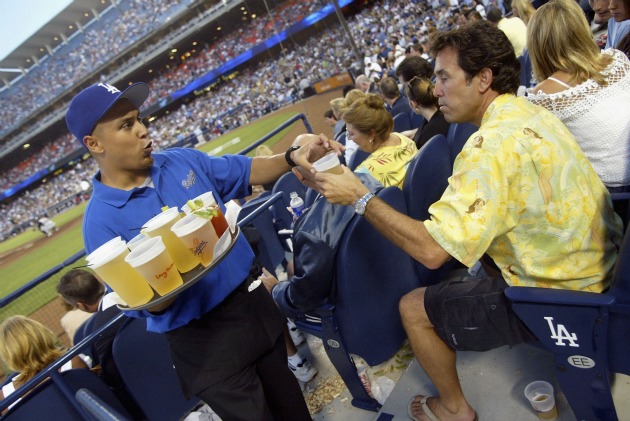 By C. Trent Rosecrans
The Orioles are a trendy pick to be better in 2011, and they should be. But no matter how the Orioles do on the field, things will be better this season in Baltimore because Natty Boh is back.
Before the take-over of the beer industry by the big brewing companies, regional beers were king -- be it National Bohemian (known as Natty Boh in Baltimore) in the mid-Atlantic, Hudepohl in Cincinnati or Hamm's in Minnesota.
These were different than the great microbrews of today, they were the macrobrews of yesterday. It's what you remember your grandpa dinking, whether it was an Olympia in Washington or an Old Style in Chicago. These were American, working-class beers. And they belonged with baseball, at the ballpark and at home, listening along to the local nine on the radio.
Well, one of these greats, National Bohemian, is back where it belongs, at the ballpark at Camden Yards. And for that, America and baseball are better than they were before. (Baltimore Sun)
For more fun, check out this video of old Natty Boh commercials (with an added bonus of Maryland history):
GARDNER MAY PUSH JETER FROM LEADOFF: The Yankees front office wants Brett Gardner, not Derek Jeter, leading off, Mark Feinsand of the New York Daily News writes.
Jeter has batted first or second for most of his career, but it seems natural to put the speedy Gardner atop the lineup. Gardner had a .383 on-base percentage last season, along with 47 stolen bases. He also saw an MLB-best 4.6 pitchers per plate appearance, giving him a good case to bat first for the Yankees.
HOLD 'EM OR FOLD 'EM: Boston's Mike Cameron had his name thrown around a bit this weekend after Philadelphia lost Domonic Brown to a hand injury, but with J.D. Drew and Jacoby Ellsbury roaming the outfield, is it wise for the Red Sox to get rid of any outfielder?
Although Cameron is making $7.5 million this season, that would hamper many other teams, but not the Red Sox. Cameron is also a rarity in the Red Sox clubhouse, a right-handed hitter. (Boston Globe)
HART SIDELINED: Brewers right fielder Corey Hart missed the last week after straining a muscle in his side. He was expected to miss two weeks, but after a setback during a throwing exercise on Saturday, Hart said he doesn't expect to be back in the original timeframe.
However, manager Ron Roenicke said he expects Hart to be ready for opening day. (MLB.com)
MOM KNOWS BEST: Yankees catcher Francisco Cervelli said he was feeling sorry for himself after suffering a broken bone in his left foot, until his mother set him straight.
"I woke up positive and [said] 'Let's do it,'" Cervelli told the New York Daily News. "That's it. Start the work, the therapy and get better. A lot of people in the world don't have legs or arms; I'm healthy. I just have something in my foot, but it's going to be OK."
MONTERO MAY BACKUP: Cervelli's injury may have opened the door for Yankees top prospect, Jesus Montero.
Many thought the Yankees would want him to play every day and not have him break camp just to back up Russell Martin. One who doesn't buy that theory, apparently, is Brian Cashman.
"There is a lot of knowledge that a catcher has to absorb that you just won't get at Triple-A," Cashman told FOXSports.com's Ken Rosenthal. "If it's the second week of April and he has only pinch-hit or started one game, I won't consider it a lost week. There are a lot of things going on behind the scenes that he has never experienced before.
"He can watch, see how [Martin] goes through it -- pre-game, advance scouting meetings, all those things. When he gets in there in the future, he'll be fully prepared, rather than just sink or swim."
The Yankees know Montero's bat can play right away, but many question his ability to stick behind the plate.
TRADE STUNG SAUNDERS: Former first-rounder Joe Saunders said he was upset last season when the Angels traded him to Arizona.
"I was pissed off. I'm not going to lie to you," Saunders told the Orange County Register.
Saunders said it was weird heading into the visitor's clubhouse at Tempe Diablo Stadium, the Angels' spring training home.
MULLET MANIA: Travis Schlichting has the greatest mullet in baseball history, and Yahoo!'s Jeff Passan has the story.
AUTHOR-PITCHER: Rays reliever Dirk Hayhurst -- better known as the author of The Bullpen Gospels than anything he's done on the field -- said he's walked a fine line between being truthful and writing a tell-all.
Hayhurst's often hilarious characters in the book (really, it's worth checking out, a fun, quick read), are real, but he doesn't name names. He's also working on a second book and has a contract for a third, but those will also be done in his particular style, where the only specific player you get dirt on is Hayhurst himself.
The Rays seem like a perfect fit, if only for the fact that when asked about Hayhurst, manager Joe Maddon used the word "ameliorated" in his response. (St. Petersburg Times)
OLIVO CONFIDENT: Mariners catcher Miguel Olivo had a scare on Saturday when he pulled up lame with a hamstring injury and had to be helped off the field. Olivo will have an MRI today, but he told reporters on Sunday that he's confident he'll be ready for opening day. (Seattle Times)
BOOF REMAINS A MYSTERY: Even Boof Bonser doesn't know how his name came about, even though he's legally changed it. (Star-Ledger)
FORTUITOUS CUT: Braves manager Fredi Gonzalez is pretty happy he cut reliever Cristhian Martinez last year when both were with the Marlins. Martinez was optioned to Triple-A at the end of spring training last season and then designated him for assignment on April 3. The Braves signed him and now he's competing for the final bullpen spot.
Martinez struck out five in two innings against the Nationals on Sunday. (Atlanta Journal-Constitution)
MAYBIN MAY RETURN: San Diego's Cameron Maybin may return to action today after suffering concussion symptoms when he hit his head on a post during Wednesday's practice.
Maybin, the team's newly acquired center fielder, took batting practice on Sunday and said he felt good afterwards. (MLB.com)
D-LEE STILL OUT: Derrek Lee won't make his debut with the Orioles in the Grapefruit League until Wednesday at the earliest. (Baltimore Sun)
PEAVY TO MAKE SECOND START: White Sox starter Jake Peavy said he's sore from Saturday's start, but he's good enough to start on Wednesday. (Chicago Tribune)
FIRST BASE BATTLE: Here's something you don't hear very often -- Diamondbacks manager Kirk Gibson said defensive will be a key component to the team's search for a regular first baseman.
Russell Branyan, Brandon Allen and Juan Miranda are the other leading candidates for that job. (Arizona Republic)
ZAUN TO RETIRE: Veteran catcher Gregg Zaun is set to retire after 16 seasons in the big leagues.
Zaun, 39, was in the Padres camp. He's a career .252/.344/.388 hitter, but better known for his defense, spending most of his time as a backup catcher.
His retirement gives Rob Johnson the inside track at the Padres' backup job. (Sportsnet.ca)
For more baseball news, rumors and analysis, follow @cbssportsmlb on Twitter or subscribe to the RSS feed.