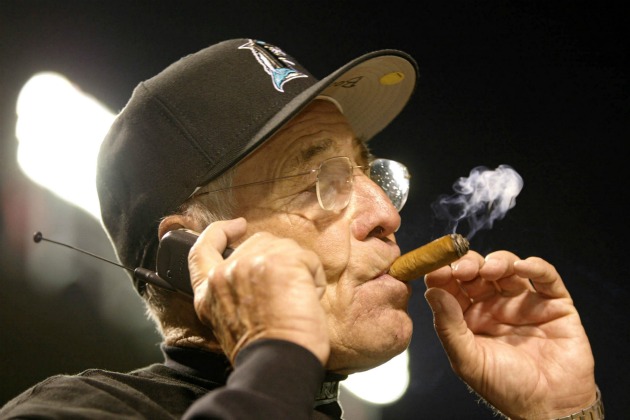 By C. Trent Rosecrans
With Jack McKeon returning to manage the Marlins, plenty of people are trying to put the age of the 80-year-old McKeon in its proper perspective.
Here's my attempt, looking back at the first team McKeon managed, the 1973 Kansas City Royals. That was the first year of what was then called Royals Stadium and is now called Kauffman Stadium. The structure is the sixth-oldest stadium still in use as home to a Major League team (and third-oldest outside the state of California).

On May 29, McKeon managed against Baltimore's Earl Weaver for the first time in his big-league career. Weaver was in his sixth season with the Orioles and already had a World Series title and three pennants. Weaver, who has been retired for 25 years, is just three months older than McKeon.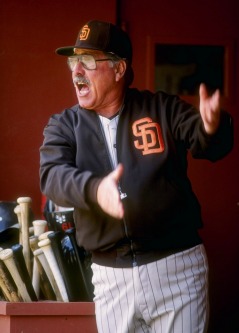 Baseball's other managers in 1973 were Ralph Houk, Eddie Kasko, Billy Martin, Del Crandall, Ken Aspromonte, Dick Williams, Frank Quilici, Bobby Winkles, Chuck Tanner, Whitey Herzog, Yogi Berra, Red Schoendienst, Bill Virdon, Gene Mauch, Whitey Lockman, Danny Ozark, Sparky Anderson, Walter Alston, Charlie Fox, Eddie Matthews, Don Zimmer and Leo Durocher. Yes, Walter Alston, Ralph Houk and Leo Durocher. Keep in mind, McKeon was 42 then, young to be sure, but still three years older than Anderson and a year older than Herzog.

McKeon's first game as a big-league manager came on April 6, 1973 -- that same day Tony La Russa played in his final big-league game. La Russa has now managed 5,008 games, the second-most in history.
The '73 Royals had 24-year-old John Mayberry playing first, leading the team with 26 home runs (tied with Amos Otis) and 100 RBI. As the Marlins manager, he may face John Mayberry Jr., a 27-year-old currently on the Phillies' Triple-A team who has played in 45 games with the big league team this year.
Hal McRae was in his first year with the Royals and would go on to be one of the team's iconic players. His son, Brian, wrapped up a 10-year big league career 12 years ago.
Paul Splittorff was 26 and won 20 games for McKeon in 1973. Last month Splittorff, who played 15 seasons in the big leagues and had a long career as an announcer, passed away at the age of 64.
Lou Piniella hit .250 with nine homers as the Royals' everyday left fielder in his last season in Kansas City and would go on to play 11 more years with the Yankees. After that, Piniella would manage 23 more years before retiring last season.
Gene Garber, who went on to pitch until he was 40, was just 25 years old and entered the 1973 season without a victory or a save, finishing his first season under McKeon 9-9 with 11 saves with a 4.24 ERA. He finished his career with 218 saves (seventh-most when he retired), appearing in 931 games. His 931 appearances were fifth-most in baseball history when he retired.
A 24-year-old Buck Martinez played 14 games for the Royals in 1973 and would play 13 more seasons. He also went on to manage, but hasn't done that for nine years, and is serving now as the Blue Jays' TV color man.
And then there's two rookies who debuted for the Royals in 1973 -- George Brett and Frank White. Those two now have statues at Kauffman Stadium and are the only Royals players to have their numbers retired. Brett was inducted into the Hall of Fame in 1999.
For more baseball news, rumors and analysis, follow @cbssportsmlb on Twitter or subscribe to the RSS feed.