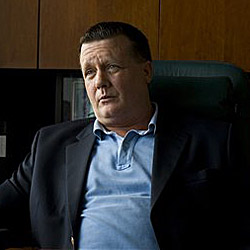 Monday, Hank Steinbrenner spouted off about
revenue sharing and the embarrassment
that was the
Yankees
' 2010 season. You know, the one where the Bronx Bombers won 95 games and advanced to the ALCS. Amidst the comments was a slam about the team getting too proud of itself and an insult about players being too busy "building mansions," which seemed to point directly at Captain
Derek Jeter
.
It goes without saying that Steinbrenner
spent some of Tuesday clarifying the remarks
. First and foremost, his shortstop. That mansion comment was merely a "euphemism" and "just a generalization."
"Sometimes, teams get a little complacent. They celebrate for too long. You see that a lot in sports nowadays. It certainly isn't Derek. Derek has five rings. You don't win five rings by being complacent. So it was definitely not Derek I was talking about."
He went on to "explain" his other statements, which serve only to further confuse anyone paying attention.
Steinbrenner earlier referred to the 2010 season as an embarrassment, but later noted that the
Rays
also failed to make the World Series -- and said sometimes in the AL East, the "best division in American sports," the teams wear each other out before the postseason. So, Hank, did the Yankees lack hunger and get complacent, or were they just a really good team that got worn out in a great division? It can't be both.
There's more lunacy in his extended commentary with the media, but the bottom line is it's become pretty impossible to take anything good ol' Hank says seriously. Just don't ignore him, lest you miss out on some entertaining banter.
-- Matt Snyder
For more baseball news, rumors and analysis, follow @cbssportsmlb on Twitter or subscribe to the RSS feed.