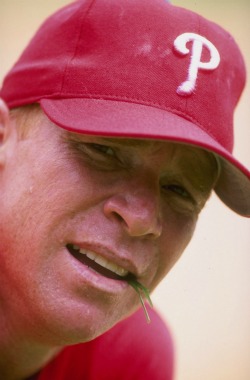 By C. Trent Rosecrans
Friday had good news and bad news for
Royals
fans outside the Kansas City area (and trust me, they exist).
The bad news? Fox Sports Kansas City officially announced (
via MLB.com
) they've hired Rex Hudler and Steve Physioc as the team's TV broadcast team.
The good news?
MLB.TV announced that for the first time the home and away broadcasts will be available for all games
.
The problem with that is MLB.TV is subject to blackout rules in the local area and the team also plays the
White Sox
18 times, so for those Royals fans in Kansas City and for the 18 games with Hawk Harrelson, there's always the mute button.
The Royals ousted one of the franchises' all-time greats, Frank White, after the season because he was too critical
-- and any doubt about that was erased when they hired a cheerleader like Hudler. You'd think the Royals fans that were left had paid a high enough price watching the Royals for the last 20 years or so, but no, you've got to add a duo of screamers to replace a legend with insight and integrity. It's also sad that it comes at a time when the Royals should be entertaining to watch, featuring a core of young, talented players.
Hudler and Physioc spent 11 seasons together calling
Angels
games. The two will actually only work 50 games together in 2012, with Ryan Lefebvre doing play-by-play for 90 games. Both Physioc and Lefebvre will do radio games, joining Denny Matthews, Bob Davis and Steve Stewart. Hudler will serve as the color analyst for 120 games, while former Royal Jeff Montgomery will do color in the remaining 20 games broadcast by Fox Sports Kansas City.
As for the MLB.TV news, the home and away feeds will be available on MLB.TV Premium for $124.99 -- up about five bucks from last season. It also includes a free copy of At Bat 12, which cost $15 last season. The regular MLB.TV subscription is $109.99. The premium edition also includes support for the Xbox 360 for the first time.
For more baseball news, rumors and analysis, follow @EyeOnBaseball on Twitter, subscribe to the RSS feed and "like" us on Facebook.