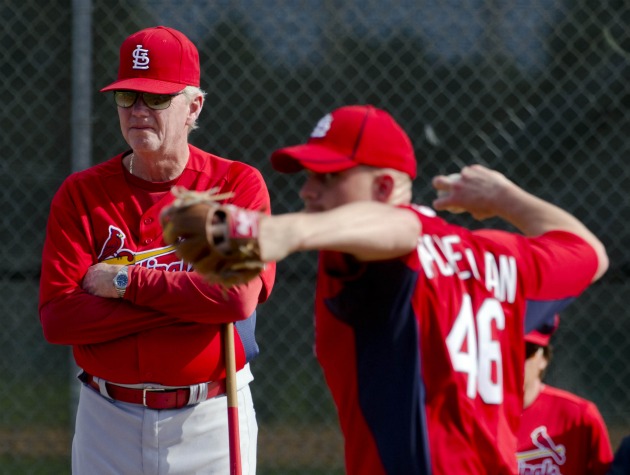 While there's not exactly a great time to lose a pitcher that's been in the top three of the Cy Young voting each of the last two years, February may be one of the better times to get that kind of bad news.
Tony La Russa, Dave Duncan (above) and John Mozeliak at least have time to assess their options.
First off, it puts more pressure on Kyle Lohse, who goes from the highest-paid No. 5 in the league to the highest-paid No. 4 ($11.875 million both this season and next).
For now, La Russa said (from the St. Louis Post-Dispatch), "We're not going to look outside the organization. The answer is here."
So what's the answer? Here's a multiple choice.

1. Kyle McClellan -- One of the Cardinals best options out of the bullpen the last couple of years, McClellan came up as a starter and was even in the race to make the rotation last season before being beat out by Jaime Garcia. He has the arsenal to start -- including a slider he's shelved the last two years in the bullpen -- and is likely the favorite.
2. Lance Lynn -- A big right-hander (6-foot-6, 250), Lynn was 13-10 with a 4.77 ERA at Triple-A Memphis last season. He struck out 141 batters in 164 innings last season. He pitches in the mid-90s and also has a decent curveball and changeup. Having spent more than a year at Triple-A, he's likely to debut sometime this season, regardless of what happens out of the gate.

3. Ian Snell -- The Cardinals signed the former Pirate to a minor-league contract this offseason, hoping he'd be Duncan's next reclamation project. Snell was a 14-game winner for the Pirates in 2006 (with a 4.74 ERA), but has gone 23-39 with a 4.74 ERA since. Last season he started eight games for the Pirates and appeared in four more, going 0-5 with a 6.41 ERA.
4. P.J. Walters -- Walters started three games for the Cardinals last season, going 2-0 with a 3.94 ERA. Walters gave up nearly a hit an inning, but also managed to miss bats, striking out 11 in 16 innings as a starter. He was less successful as a reliever, but showed promise as a starter. He went seven innings on Sept. 29 against the Pirates, allowing just three hits and no runs.
5. Adam Ottavino -- Like Walters, Ottavino started three games for the Cardinals in 2010. He went 0-2 with a 7.53 ERA in his two starts, allowing 12 runs in 14 1/3 innings, while walking eight. He was taken off the team's 40-man roster this offseason. He was 5-3 with a 3.97 ERA in nine starts at Memphis last season.

6. Shelby Miller -- Miller breaking camp probably isn't going to happen -- and shouldn't. Miller is the team's top -- and some say only -- prospect. Miller has a bright future, but his only experience so far is 26 games in the low-A Midwest League. Last season he went 7-5 with a 3.62 ERA for Quad Cities. He has a good fastball and curveball, but has yet to show command of his changeup. Miller will be in St. Louis soon, just not this soon.
Sure, they say they're looking in-house first, but they may not like what they see and decide to go outside. It wouldn't be the first time La Russa said something and then did the opposite. There are a few available options:

1. Kevin Millwood -- The veteran has been holding out for a big-league contract, perhaps anticipating such an opportunity as this. Still, Millwood may not get that big-league contract from the Cardinals. He was 4-16 with a 5.10 ERA for the Orioles last season.
2. Joe Blanton -- The Phillies have said they're holding on to their fifth starter, but the Cardinals could be tempted. The problem is St. Louis' system isn't very deep and may lack the prospects to land Blanton, unless Philadelphia is looking to give him away.
3. Yankees castoffs -- The Yankees have certainly searched the scrap heap to replace Andy Pettitte, signing Bartolo Colon and Freddy Garcia. If either -- or both -- of those veterans are jettisoned before the end of spring training, the Cardinals could bring either in to work with Duncan.
-- C. Trent Rosecrans
For more baseball news, rumors and analysis, follow @cbssportsmlb on Twitter or subscribe to the RSS feed.