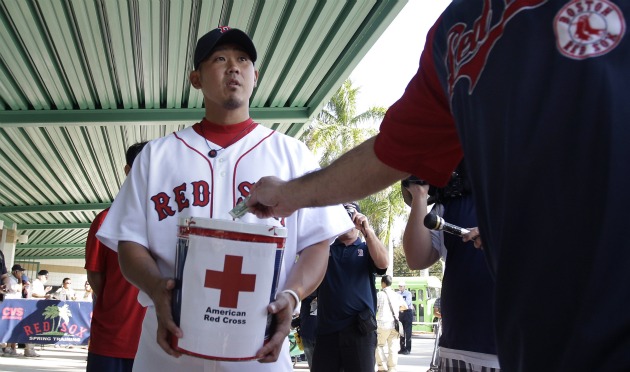 By C. Trent Rosecrans
Sometimes the nature of our 24/7 news cycle makes us forget -- or at least move on from -- even the biggest of news stories get lost in the next big story.
Even though Japan is still dealing with the destruction of the earthquake and tsunami -- and will be for years -- we're not hearing as much about Japan right now. It's only natural. But that doesn't mean that everything's OK there.
Yankees pitcher Kei Igawa went to Japan last weekend and was deeply moved by what he saw.
"It was pretty disastrous," Igawa told the New York Daily News through an interpreter. "The roads were a mess, and when I was home, the water wasn't running. It was pretty hard for me."
Igawa's parents and family are OK, but keep in mind his hometown of Oarai well south of the epicenter and 100 miles from the damaged nuclear plant in Fukushima. He said his house didn't suffer flooding, but did suffer damage from the earthquake.
The Yankees allowed him to return home, where he spent five days and returned earlier this week.
"Compared to the rest of the country -- especially up north, where it was much worse, I feel really fortunate," Igawa said. "I wanted to stay home a little longer, because my family and friends are going through hard time. But I also had to resume baseball, because that's my job."
Igawa will start the season in Triple-A. He's in the final year of his five-year, $20 million contract.
Many other Japanese players are trying to come to terms with what's going on at home, as well.
"Fortunately, I am a survivor, but it hurts, of course," the Angels Hisanori Takahashi told the Los Angeles Times through an interpreter. "It has definitely been difficult to focus on baseball.
"Seeing all the [TV] footage, you get a little numb, but it's a real thing. I have to keep my eye on the tragedy, but I also have to play baseball here."
Red Sox starter Daisuke Matsuzaka said he's still too emotional about the situation to discuss it publicly, but he showed how he felt by giving $1 million to the Red Sox Foundation, which is giving all that money to the Japanese Red Cross Society to help fund relief efforts. The Red Sox said Hideki Okajima, Junichi Tazawa and Itsuki Shoda have also made personal donations through the Red Sox Foundation.
Matsuzaka joins fellow stars Ichiro Suzuki (100 million yen, roughly $1.2 million) and Hideki Matsui (50 million yen, roughly $620,000) in making large donations to the Red Cross for relief efforts in Japan.
BATISTA FINED -- Reliever Miguel Batista was the only Cardinal fined for last week's scuffle between the Cardinals and the Nationals. Batista hit Washington's Ian Desmond to start the fracas. [St. Louis Post-Dispatch]
BUCK FALLOUT -- We've already had Buck Showalter backpedaling about his comments to Men's Health about his comments on Derek Jeter and the Red Sox. Derek Jeter, not surprisingly, wouldn't comment on Showalter's comment. However, a look at the stats say Showalter's wrong -- Jeter actually doesn't get the calls on the inside corder. [ESPN]
TULO'S FINAL FOUR -- Finally, a Final Four that matters. You can now vote for one of four songs Troy Tulowitzki will use for his at-bat music. Well, to me they're all crap, but I'm not the target audience. Tulowitzki had "Party in the USA" last year, so the selections this year are just as bad -- "Firework" by Katy Perry, "Baby" by Justin Bieber, "We R Who We R" by Ke$ha and "Yeah 3X" by Chris Brown. Vote here. [Denver Post]
THE LEGEND BEGINS -- I'm reading Jane Leavy's The Last Boy about Mickey Mantle right now, so I knew about the legend of Mickey Mantle's home run at USC in 1961. Well, the Los Angeles Times remembers it too. A really cool story on the birth of the legend of the Mick.
MILLWOOD GOOD? -- Is Kevin Millwood really that bad? Looking at some of the recent pitchers to have 16 losses and an 82 ERA+ like Millwood did last season shows some pretty decent pitchers have done that before. [Baseball-Reference.com blog]
HE'S NOT FAT, HE'S BLOATED -- Dodgers shortstop Rafael Furcal explains he was bloated from medication, not fat when spring training started. Furcal ate contaminated meat in his native Dominican Republic in January and the drugs he took made him bloated. He looked big when he checked in, but he was just 193 pounds, about the same he usually checked in at. He's now at 188, just about where he likes to play. [Los Angeles Times]
D-BACKS BULLPEN ISN'T BORING -- Diamondbacks bullpen catcher Jeff Motuzas has discovered bored, rich relievers will pay people to amuse them. So, Motuzas takes on dares to pick up extra bucks. Among the things he's done -- snorted wasabi, eater regurgitated yogurt, left hot balm on his shaved armpits for an entire game and gotten shot in the earlobe with a BB gun. Livan Hernandez once paid him $3,000 to drink a gallon of milk in 12 minutes. The two also had a deal that Hernandez could punch him in the junk for $50 a pop -- with a $300 bonus after every 10th punch. [Wall Street Journal]
BUT IS HE WRONG? -- An anonymous "MLB star" had several things to say to ESPN the Magazine about the Tigers' Miguel Cabrera, including "why isn't Cabrera paying a guy $100 a night to drive him around? Plenty of guys do that. That he didn't is a slap in his teammates' faces." [MLive.com]
ROCK THE KAZMIR -- Mike Scioscia didn't sound too optimistic about Scott Kazmir when he announced the lefty had made the team's rotation. If Kazmir struggles continue into the regular season, Matt Palmer may be an option. [Los Angeles Times]
TOGETHER WE'RE GIANT -- Our buddy Will Brinson loves the Giants commercials. I found them amusing, but still not as good as the Mariners commercials. I like the Cardinals ones better, too.
RIGGLEMAN DOESN'T CARE ABOUT YOUR STATS -- You've seen some good commercials, now listen to a bad one. The Washington Nationals, MASN and Jim Riggleman are attacking stats in their newest campaign. Apparently a bunt or a "well-placed single" are "smart" -- and the walk is recognized as a good thing. But yeah, a pretty silly campaign.
THE NATURAL ON THE HILL -- Robert Redford will throw out the first pitch at the Cubs' opener on April 1 against the Pirates. [Chicago Tribune]
For more baseball news, rumors and analysis, follow @cbssportsmlb on Twitter or subscribe to the RSS feed.