By Evan Brunell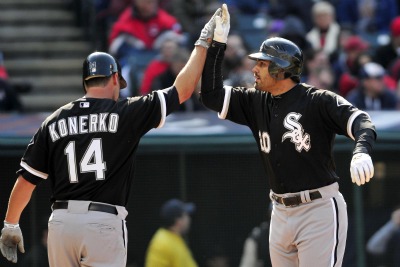 Ahh, day two of baseball. SI.com's Joe Posnanski has a nice story up about Day 2 in baseball, and that's what we're about to look at.
3 UP
Joel Hanrahan, Pirates -- John Axford and Ryan Franklin couldn't handle the heat Thursday. Brandon Lyon fell victim earlier in the day. That left it to the Pirates closer in Hanrahan to settle matters. After an inning in which he made things interesting by allowing a hit and walk to the Cubs, while also whiffing two batters, Hanrahan walked away with the NL Central's first save.
Carlos Quentin, White Sox -- Quentin lit up Cleveland on Friday, even more so than Adam Dunn despite the newcome's two-run homer and double. Quentin drove home five with an RBI single in the first, two-run blast in the third and a two-run double in the fourth. Q is capable of hitting 40 home runs and this could be the year he puts it all together after following up a huge 2008 with an injury-riddled 2009 and a solid bounceback in 2010.
Jose Bautista, Blue Jays -- There's been plenty of talk about Bautista, especially given the shiny new contract he received as a present for hitting 54 home runs in 2010. Many either consider his season a fluke or one that will regress a lot as even 30 home runs would represent a 24-home run dropoff. However, Bautista rang in the new year in style, knocking a home run as part of a 3-for-4 night with three runs scored.
3 DOWN
Fausto Carmona, Indians -- Here's a nice, shiny 30.00 ERA for you, Fausto Carmona! The Indians ace coughed up 10 runs in three innings, allowing 11 hits, one walk and pumping out three strikeouts. Carmona just didn't have any part of it today against the White Sox. He's still a solid pitcher who will be in demand at the trade deadline, so don't read too much into this.
Ivan DeJesus, Dodgers -- Going 0 for 3 is not a good way to get into the good graces over in Dodgerland. DeJesus drew the start at second base thanks to both Casey Blake and Juan Uribe being out of the lineup, and utility infielder Jamey Carroll opening the game on the bench. The freshly-minted backup infielder whiffed all three times at the plate while oddly starting in the No. 2 spot in the lineup. DeJesus would later be double-switched out for Carroll in the seventh in an act of mercy.
Daniel Bard, Red Sox -- Bad day for Daniel Bard, who started the eighth inning with Boston having just tied the game at 5-5. Bard, who is the heir apparent at closer and clearly the best reliever in the bullpen, instead gave up four runs on four hits in just 2/3s of an inning, drawing the loss. Absolutely nothing was going right, including David Murphy's ball that just barely kissed the chalk for a two-run double. Bard said himself the pitch was executed the way he wanted. So yeah, bad day.
For more baseball news, rumors and analysis, follow @cbssportsmlb on Twitter or subscribe to the RSS feed.