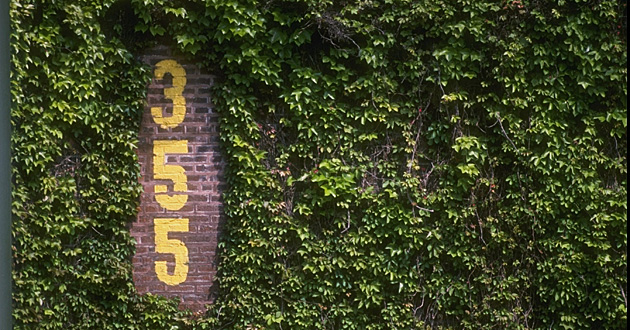 By Matt Snyder
In your best
"Soup Nazi"
voice, let's hear it:
No ivy for you!
Yes, a 24-year-old man was arrested in Chicago on New Year's Day for trying to steal some ivy off the outfield wall in Wrigley Field (
CBS Chicago
). That's a no-no. For two reasons.
First of all, the man had to break into Wrigley Field and tresspass to get a piece of the ivy. He reportedly did so by working his way through a construction area about 7:30 a.m. on the 1000 block of Clark Street (which runs along Wrigley's third-base line). The problem, of course, is he was caught on a security camera. So the theft of the ivy would not stand.
Secondly, even if you purchase a ticket and attend a game, the
Cubs
do not allow fans to take a piece of historic ivy. I've personally witnessed fans from the bleachers reach over and grab some ivy, only to have it snatched away by the usher almost immediately. That is if they even get far enough down to reach the ivy. It makes sense. If you allow fans to just reach over and tear off ivy, where does it end? It's the slippery slope theory.
But in this case, the dude trespassed. He's been charged with criminal trespassing, a misdemeanor. I'm sure it was worth it, though, just to try and get a vine of ivy.
For more baseball news, rumors and analysis, follow @EyeOnBaseball on Twitter, subscribe to the RSS feed and "like" us on Facebook.