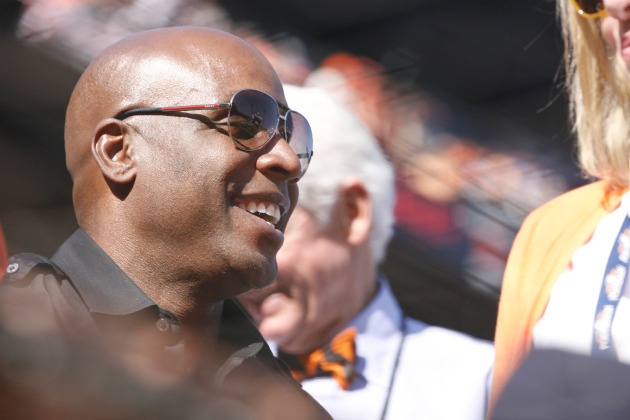 By Evan Brunell
BONDS ON TRIAL: Monday marks the first day of the long-awaited trial in which Barry Bonds is charged with lying to a grand jury about his usage of steroids.
Bonds, who has adamantly stated that he never used steroids -- at least knowingly -- has had several legal victories leading up to the trial and it is anyone's guess whether Bonds will be convicted. If he is found innocent, former commissioner Fay Vincent believes his chances of making the Hall go up, but any conviction is "the end of the discussion for at least 30 years."
The anecdotal evidence against Bonds is overwhelming, and even if he's found innocent, it will be difficult to find a person who truly believes Bonds did not knowingly use steroids. It's unclear how much impact this trial will have on Bonds' Hall of Fame hopes. There will be plenty of writers who vote for Bonds if he cleared all the legal hurdles, but there will be just as many who pursue their own brand of vigilante justice, and there are plenty of supporting arguments for each party.
While the government has been limited by Bonds' victories in pre-trial hearings, they do hold a positive steroid test in which Bonds tested positive for the clear and the cream. That will force the trial to devolve into a "he said-she said" argument, with the government prepared to call 52 witnesses -- but none among them will be Bonds' close friend and trainer Greg Anderson, who has already served over a year in prison for contempt of court and could serve more.
While the lurid trial figures to get plenty of ink in the coming weeks, don't forget that Roger Clemens lands on trial in July, and that has the promise to be an even more salacious affair. (San Francisco Chronicle)
TO PLAY OR NOT TO PLAY?: While Japan struggles to deal with the devastation that the earthquake and tsunami wrought, there's a hot debate on whether the Japanese baseball league should begin play. Some look at how baseball was the salve for America's heartbreak after 9/11, some think the comparison is ridiculous. Either way, the Central League will open four days late and play only day games the first week to save power. The Pacific League will start up April 12. (New York Times)
STICKING WITH J.P.: Projected starting catcher J.P. Arencibia has had an awful start to spring training for the Jays, this after finishing last season 1 for his last 30. Even with the news that backup Jose Molina will catch Brandon Morrow and Kyle Drabek, that's still almost 100 games lined up for Arencibia, and the team is prepared to let the slugger play his way through any struggles. (Canoe.ca)
HUSTLIN': Mark Teixeira wasn't pleased with Ben Francisco Sunday, as the Phillies outfielder bumped into Teixeira on a groundball to first. "That's not a hustle play," Tex sniffed. "He could hurt me or hurt himself." Teixeira has a fair point, as most players will allow themselves to be tagged out on a play in front of them, but it's hard to blame Francisco for this one, who is battling for the starting right field job. (New York Post)
SAME OLD: The disabled list for Jake Peavy? What a surprise. After Peavy suffered a setback and admitted he has been pitching with rotator-cuff discomfort since March 4, manager Ozzie Guillen didn't mince words, saying Peavy is likely to start the season on the DL and will not make his next start Thursday. Peavy needed that start to stay on track to be the club's No. 5 starter on April 6, but Phil Humber will take his place instead. As for when Peavy can pitch again? He'll have to get past Ozzie first. (ChicagoBreakingSports.com)
WANTED: BACKUP INFIELDER: The Padres are on the hunt for a backup infielder, but may wait until next week for prices to drop on available players. Robert Andino of the Orioles and Alberto Gonzalez of the Nationals have caught San Diego's attention, and each should be available for a reasonable cost. (MLB.com via Twitter)
MORE POWER TO SCOTT: Scott Boras has a host of players under contract with the Nationals, including their three faces of the franchise in Jayson Werth, Stephen Strasburg and Bryce Harper. That will wield a lot of influence with the Nats, but contrary to popular perception, Boras may actually be able to exert a positive influence. (Washington Post)
WATCH YOUR MOUTH: Joe Maddon heard an Orioles fan yell something racist to Rays center fielder B.J. Upton, so Maddon had the fan removed from the game. (St. Petersburg Times) Upton and other coaches confirmed hearing the comment, but the O's fan has since created a Twitter account to defend himself, saying he did not make racist comments. (Twitter: @AssClownOsFan)
REED WANTS SPOT: Jeremy Reed has a bit of a reputation of having an over-inflated sense of self and the ego to match. However, in camp to fight for a backup outfield spot alongside Chris Dickerson and Brandon Boggs, Reed has done near everything right in the hopes it's enough to land on the 40-man roster and make the team. He has stiff competition in Dickerson, but manager Ron Roenicke is impressed with Reed's work ethic. (MLB.com)
For more baseball news, rumors and analysis, follow @cbssportsmlb on Twitter or subscribe to the RSS feed.