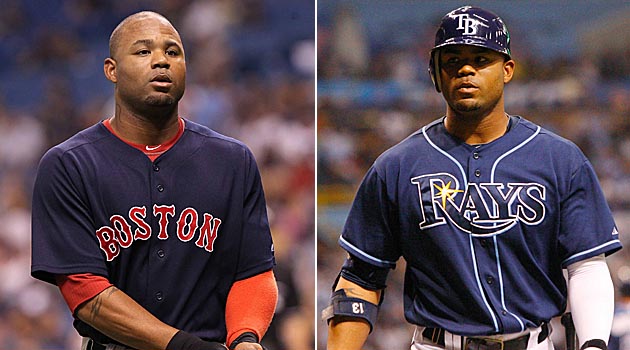 By Matt Snyder
With the
Rays
climbing to within two games of the
Red Sox
in
the AL wild-card race
, it's going to be a fun final two weeks for baseball fans. Some interesting perspective on the drama comes from current Red Sox and former Rays' left fielder
Carl Crawford
.
Crawford played nine seasons and 1,253 regular-season games for the Rays. He's easily the best player in the history of the young franchise at this point, but he walked this past offseason for a seven-year, $142 million deal and signed with the Red Sox. And he's now having the worst season of his career, from an individual standpoint.
In a
diary entry for ESPN.com
, Crawford notes that hears the boos from "haters" when the Red Sox visit Tampa Bay and that those fans need to realize he's going to be coming back for six more years. Two more entries of note:
"If Tampa makes a miracle comeback and takes the wild card from us, I will be devastated. I definitely wouldn't want to lose to those guys and watch them get into the playoffs while we go home. That would just be devastating to me."
And ...
"I want to end the diary saying something to the fans of Boston. I just want to say I'm sorry for the year I've had. You guys have been really supportive and I appreciate that. Hopefully when we get into these playoffs, I can be the real Carl Crawford that I know I am. We'll see."
I love seeing that kind of accountability from someone who could easily just blow everyone off and count his millions.
Ironman:
Speaking of the Rays,
Johnny Damon
has now tied Pete Rose and Hall of Famers Brooks Robinson and Hank Aaron with an impressive streak. Damon has now played in at least 140 games in 16 different seasons, making it a four-way tie atop the all-time record book (
TampaBay.com
). Does anyone doubt Damon can do it again next year and set the record? I sure don't.
More from Damon:
This is funny, and true. Damon points out that Red Sox fans have to root for the
Yankees
now. "They're going to have to root for them if they want a chance at the postseason," Damon said (
BostonHerald.com
). "They couldn't root for me when I played in New York. Now they have to root for the whole team." Man, how much are Yankees fans relishing this?
Happy Birthday:
Hall of Famer Joe Morgan turns 68 Monday (
Hardball Times
). The two-time MVP is widely considered the best second baseman to ever play the game (and was also a broadcaster for years, but we'll leave that alone, being his birthday and all ... )
While we're here:
Speaking of Joe, he just led the world's largest chicken dance. Check it out (via
Big League Stew
):
Sigh:
Tigers
manager Jim Leyland says he isn't an "on-base percentage guy." (
MLB.com
) Look, Leyland knows a lot more about baseball than I do, which is quite an obvious fact. But that doesn't mean he can't be wrong about certain things. I just don't understand what it is with the so-called "old-school mentality" that prevents people from grasping that OBP is the percentage of times batters
don't make an out
. I don't get how you can
not
be an OBP guy. You go to the plate with a bat. The main object is to not make an out. It's very, very simple. Leyland, thankfully, doesn't say he likes batting average, but instead slugging. Slugging percentage is much more important than average, but OBP is much more important. Think about it. Even if you're just churning out singles and walks over and over, you're still scoring runs. Slugging is very important, too, which is why OPS has gotten more and more run in recent years.
Humbled Ozzie:
White Sox
manager Ozzie Guillen recently made a trip to the Negro Baseball League Museum in Kansas City and came away with a renewed appreciation for everything he has. "It's so different, and sometimes you shake your head at what these guys went through all this stuff for baseball to be better now than then," he said (
Chicago Tribune
).
Shoot him up:
Phillies
slugging first baseman
Ryan Howard
has bursitis in his left ankle, and he'll have a cortisone shot to help him deal with the issue the rest of the season. (
MLB.com
)
Johan 'felt good:'
Mets
ace
Johan Santana
threw a three-inning simulated game Sunday and he "felt good." (
ESPN New York
)
Johnson wants Wang back:
Chien-Ming Wang
has been a bit inconsistent in his return to the hill this season, but he's shown flashes of being solid -- like in his quality-start win Sunday. It will be tough to squeeze into the
Nationals
' rotation next season, especially if they land a free agent like
C.J. Wilson
, but current Nats manager Davey Johnson says he'd bring Wang back. "As far as I'm concerned, he's a keeper," Johnson said (
MASN Sports
).
Don't rush:
Rockies
starting pitcher
Jorge De La Rosa
underwent Tommy John surgery June 3, but he's looking to be back by opening day of next season. That wouldn't be unheard of, but it would be just 10 months after a procedure which typically has a 10-14 month recovery period. So it would certainly be a quick recovery. Jim Tracy, his manager, wants De La Rosa to be patient. "I told him (De La Rosa) about Dr. Jobe and the importance of following the program and don't try to deviate,'' said Tracy (
DenverPost.com
). "Don't try to speed it up. If you do that and you follow the program and you don't try to speed it up, you'll feel like you have a bionic arm. Because it will completely heal and you'll basically have a brand new elbow.
For more baseball news, rumors and analysis, follow @EyeOnBaseball on Twitter or subscribe to the RSS feed.