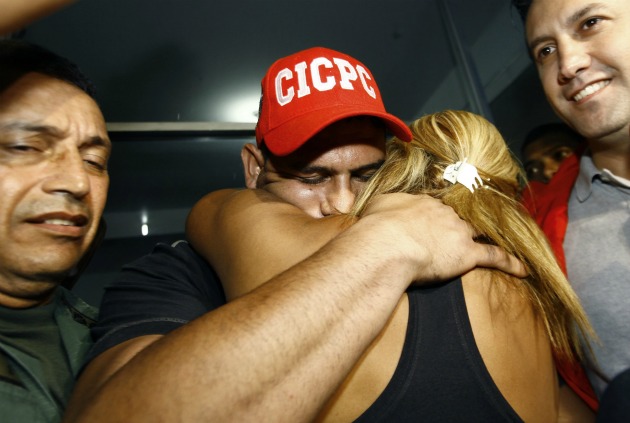 By C. Trent Rosecrans
Despite the recent kidnapping of Wilson Ramos, the Giants are not asking star third baseman Pablo Sandoval to cancel his trip to his native Venezuela next month, Andrew Baggarly of the San Jose Mercury News reports.
Sandoval is expected to go to Venezuela on Dec. 10 and play 10 games for Navegantes de Magallanes near his hometown of Puerto Cabello.
"We are aware of the situation (with Ramos)," Giants vice president Bobby Evans told Baggarly. "Everyone is cautious about the safety of their players."
Sandoval tweeted late Friday, celebrating Ramos' safe return home: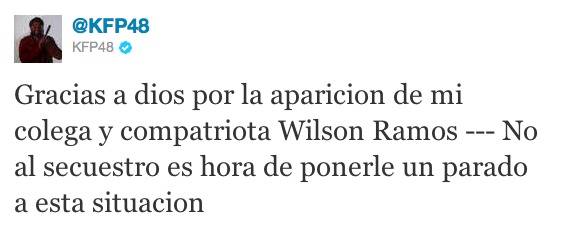 A rough translation is: "Thank God for the appearance of my colleague and compatriot Wilson Ramos -- now it's time to put a stop to this kidnapping situation."
Kidnapping has been an epidemic in Venezuela, even though Ramos said he believed his kidnappers to be Columbian.
Former big league pitcher Scot Drucker is playing for the same team in Venezuela as Ramos, the Tigres de Aragua. He's currently blogging about his winter league experience in Venezuela. Friday, before Ramos was found, Drucker blogged about the situation.
Many friends and family members asked me about the team and my safety. The team and front office staff goes over and beyond with team security. We have about 8-12 armed guards who travel with us on the planes and buses. We also have police escorts to and from the fields. I know the import players feel safe.
Drucker also tweeted about his experiences after the news broke that Ramos had been rescued: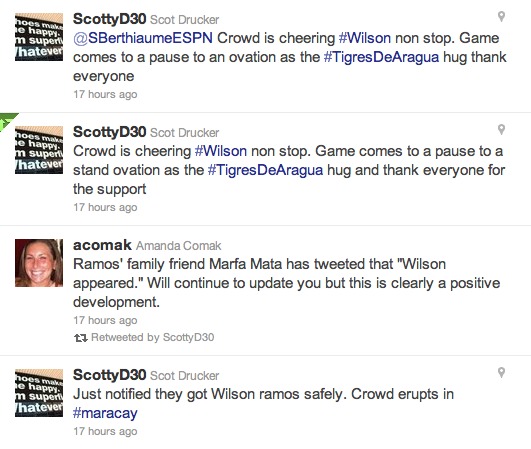 I also spoke to Joe Speed, the agent for Nationals right-handed prospect Ryan Tatusko, who is also playing in Venezuela. Speed said Tatusko decided to stay in Venezuela, but feels safe because of the team's security. Tatusko is playing for the Bravos de Maragarita.
For more baseball news, rumors and analysis, follow @eyeonbaseball on Twitter or subscribe to the RSS feed.