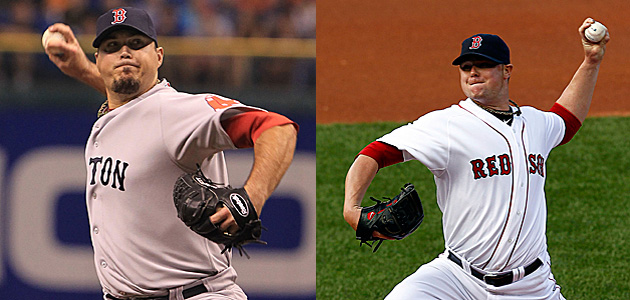 By Matt Snyder
After a historic collapse in September, blowing a huge wild-card lead to the
Rays
, the
Red Sox
offseason got off a turbulent start for several reasons, chief among them a revelation that starting pitchers
were drinking beer, eating fried chicken and playing video games in the clubhouse during games
. So when pitchers and catchers reported to camp this weekend, obviously the subject came up.
With All-Star pitchers
Josh Beckett
and
Jon Lester
, there were two different approaches.
Lester came full of accountability and apology.
"We stunk. I stunk. Tampa Bay was better," Lester said (
BostonHerald.com
). "I take complete responsibility for it."
Beckett, on the other hand, gave what the
Boston Herald termed "the bare minimum,"
while also going a bit on the offensive.
"I'm upset with myself for the lapses of judgment, but there's also some ill feelings toward some people," he said (
BostonHerald.com
), with "people" obviously being the clubhouse leak that exposed the locker-room activities.
"I'm not saying we didn't make mistakes, because we did make mistakes in the clubhouse. But the biggest mistake we made was — the biggest mistake I made — was not pitching well against Baltimore. I was prepared to pitch every time I went out there. I just didn't execute pitches when I needed to." (
BostonHerald.com
)
The
Herald also called Beckett "defiant"
in the face of the questioning while saying Lester was "contrite."
While it's easy to see that anyone would be annoyed for being outed like that, Beckett's outward frustration shows that he isn't fully accountable for the clubhouse actions. He's only sorry he got caught. It's like blaming the police officer for getting a speeding ticket --
Yeah, I shouldn't have been speeding, but I'm mad at the cop for pulling me over
. But the cop wasn't the one speeding, just as the clubhouse leak wasn't the one in the wrong in September. If Beckett was truly accountable, he would be acting like Lester, the true staff ace of the Red Sox.
For more baseball news, rumors and analysis, follow @EyeOnBaseball on Twitter, subscribe to the RSS feed and "like" us on Facebook.