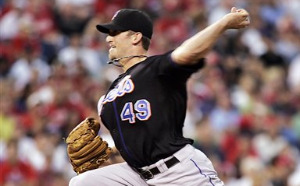 Not much has gone right for the
Mets
' season, but one thing has -- the emergence of Jon Niese.
The 23-year-old has made 22 starts on the year, posting a 3.38 ERA in 133 innings. He's whiffed 105 and walked 42.
To protect New York's investment, pitching coach Dan Warthen said a discussion will be held about the left-handers increasing innings total. Warthen noted that Niese threw 164 innings two years ago in the minors, which indicates that the youngster should have no trouble surpassing that total. The Mets may not want Niese to go much further beyond that as Niese missed part of the 2009 season after tearing a hamstring.
"You don't want to burn [his arm] out," Warthen told the New York Post .
However, manager Jerry Manuel said he wasn't inclined to limit Niese's innings but would listen to what Warthen had to say on the subject.
Niese, for one, agrees with his manager as Niese has already missed three starts on the year due to a 15-day disabled list stint for a straight right hamstring.
"I think in my situation, with me being on the DL, that already shortened my season," Niese said. "That was three starts right there."
Niese is slated to make seven more starts on the year with a projected 172 2/3 innings. Given two years ago he hit the 164-inning mark, don't be surprised if Manuel opts not to skip Niese. Warthen may be playing it a bit too safe with Niese, although it's commendable to have someone looking out for the arms of young pitchers.
-- Evan Brunell
For more baseball news, rumors and analysis, follow @cbssportsmlb on Twitter.